The Capitalist Newsletter – April 26, 2017
TRUMP ORDERS RETROACTIVE LUMBER TARIFF ON CANADA; HOME PRICES SET TO RISE AS A RESULT
President Trump continues to push for his America first policies. Those policies tend to be isolationist. So as Trump looks to increase revenue from imports, it's a little surprising that he focused his newest tariff at our neighbor to the north; Canada. Even more surprising is that he targeted Canadian soft lumber, which makes up about ⅓ of all the lumber used in construction for homes. Now, with lumber prices going up 22%, it looks like the big loser here is American homebuyers.
Read The Capitalist's Take Here
---
CALIFORNIA JUDGE BLOCKS TRUMP ORDER ON SANCTUARY CITY MONEY
A California judge on Tuesday blocked President Trump's executive order that sought to withhold federal funds from so-called "sanctuary cities." The ruling from U.S. District Judge William Orrick III in San Francisco said that Trump's order targeted broad categories of federal funding for sanctuary governments, and that plaintiffs challenging the order were likely to succeed in proving it unconstitutional. The decision will block the measure for now, while the federal lawsuit works its way through the courts.
---
DISNEY ANNOUNCES RELEASE DATES FOR BLOCKBUSTERS, INCLUDING STAR WARS EPISODE 9
Lucasfilm and Walt Disney have announced new release dates for Star Wars: Episode IX and the fifth Indiana Jones movie. Star Wars: Episode IX will now be released on May 24, 2019. The untitled fifth Indiana Jones movie will be released on July 10, 2020. Jurassic World director Colin Trevorrow remains on board to helm Episode IX, while Steven Spielberg and Harrison Ford are still set to return for the next Indiana Jones movie. Episode IX will follow both this year's Star Wars
---
Closing Bell
– Tuesday, April 25th
Markets Shoot UP as Nasdaq Eclipses 6k
Big Insider Trades
– Scholastic Corp. (SCHL) CEO Richard Robinson Sells $3.2m
– CSX Corp. (CSX) CEO Hunter Harrison Buys $15m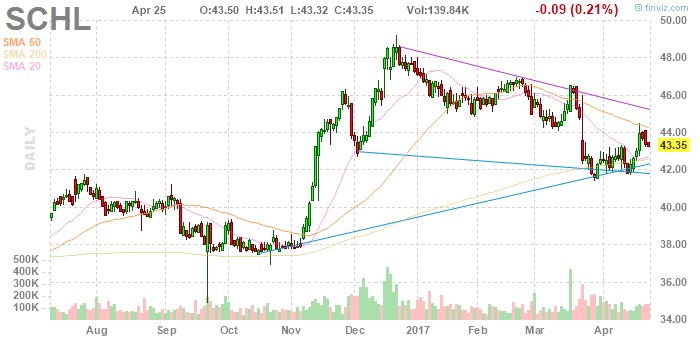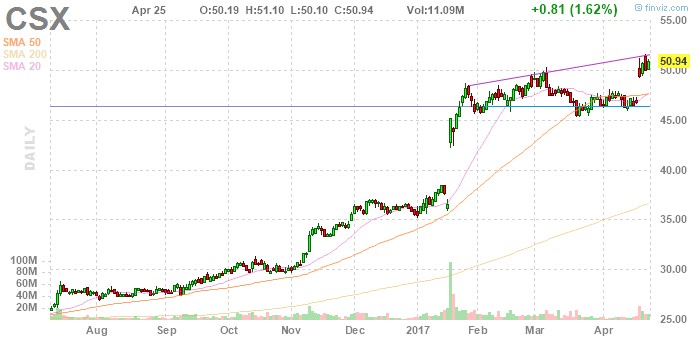 Winners & Losers
– LSB Industries, Inc. (LXU) Rises UP (30.75%) After Reporting Improved Operating Costs for Q1 2017
– Gafisa S.A. (GFA) Tumbles DOWN (30.98%) After Announcing Spinoff and IPO of Subsidiary Tenda
Most Talked About
Ocean Power Technologies, Inc. (OPTT) a Majority Strong Buy After Launching PowerBuoy to Test Harnessing Waves for Power
The TIP Sheets
– Tuesday, April 25th
– Netflix, Inc. (NFLX) Rises UP (5.79%) After Finding Way into China Through Baidu Streaming Service. Expect Shares to Continue UP
Unusual Volume
Barrick Gold Corp. (ABX) Tumbles DOWN (11.29%) on 51.5m Shares Traded After the Company Released its Fiscal First Quarter Earnings Results. The Company has Missed on All Marks. Expect Shares to Continue DOWN