The Capitalist Newsletter – April 4, 2017
RETAIL INDUSTRY CRUMBLING AS STORES LOOK TO DIGITAL TO OFFSET SLOWING SALES; DO THEY HAVE ANY OTHER OPTION?
Once upon a time, owning your own store was the American dream. Shopping malls were always packed — especially on the weekends. Stripmalls were mini neighborhood versions of their overcrowded crowded mall-cousins, complete with shopping and food options galore. Just a couple years ago, stores like Target and Lululemon continued to expand to new physical locations to meet high demand from in-store customers. Now, however, those days seem like a distant memory. Retail stores continue to take a hit as online shopping becomes more prevalent (and easy) than ever before. Are brick and mortar stores doomed?
Read The Capitalist's Take Here
---
TESLA SURPASSES FORD AS STOCK RISES TO RECORD
A record run for Tesla Inc. shares Monday tipped the electric-car maker to surpass Ford Motor Co. in market capitalization and become the No. 2 car company in the U.S.
Tesla stock rose 7.3% to close at a record $298.52. The shares traded as high as $299, establishing a new intraday record as well. The stock was the best-performing on the Nasdaq-100.
The upward march for the stock put Tesla's market cap around $48.7 billion vs. Ford's…
Read More at Fox Business Here
---
PANERA BREAD RUMORED TO BE EXPLORING SALE OF COMPANY AT VALUE OF $7 BILLION
Panera Bread is allegedly exploring options to sell itself after receiving interest from a potential unidentified buyer, Bloomberg reported. The company did not immediately return a request for comment. Panera has a market value of $6 billion and is working with advisers to consider certain strategic options including the buyout, according to Bloomberg.
Maxim Group analyst Stephen Anderson told TheStreet that a buyer would likely pay $300 a share, totaling about $7 billion. It is unclear what company Panera would merge with if it agreed to a takeover. Names being tossed around at this point, however unlikely as they seem, are .
---
Closing Bell
– Monday, April 3rd
Markets Edge DOWN as Financials Dip
Big Insider Trades
– Hormel Foods Corp. (HRL) Group VP Donald Kremin Sells $1m
– Continental Resources, Inc. (CLR) CEO Harold Hamm Buys $3.25m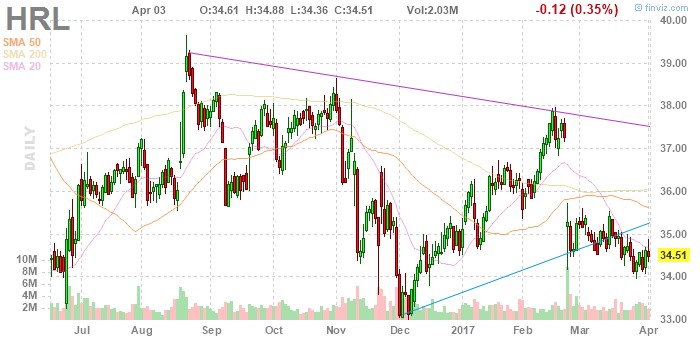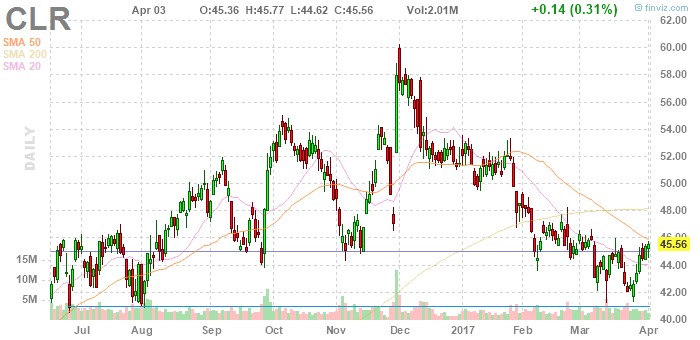 Winners & Losers
– Cyclacel Pharmaceuticals, Inc. (CYCC) Spikes UP (74.46%) on Positive Preclinical Data in Lung Cancer
– Hewlett Packard Enterprises Co. (HPE) Drops DOWN (25.86%) as Company Lowers Earnings Outlook After Completing Spinoff of ES Business
Most Talked About
General Motors Company (GM) Considered a Majority Strong Sell as Stores Suffer from Swollen Inventories
The TIP Sheets
– Monday, April 3rd
– NovoCure Ltd. (NVCR) Jumps UP (37.04%) in Response to Release of Positive Clinical Trial Results. Expect Shares to Continue UP
Unusual Volume
Panera Bread Company (PNRA) Spikes UP (7.93%) on 5m Shares Traded After Reports the Company Could be Selling at a Valuation of $7 Billion. Expect Shares to Continue UP