The Capitalist Newsletter – December 1, 2016
TRUMP NOMINATES TOM PRICE AS SECRETARY OF HEALTH AND HUMAN SERVICES; SIGNALS END OF OBAMACARE
OPEC members met at a meeting last November in Algeria to discuss a needed production cut to lift oil prices as the U.S. continues to produce oil at a more efficient rate. Plans from that meeting were finalized Wednesday, and OPEC is cutting oil production by 1.2 million barrels per day. Oil prices surged as a result, but can they get back to where they were just two years ago? What can investors expect from oil stocks in the near future?
Read The Capitalist's Take Here
---
NETFLIX LISTENS TO ITS FANS; ENABLES DOWNLOADING TO SUBSCRIBERS WORLDWIDE
Starting today Netflix subscribers won't have to leave its programming behind when a broadband connection is out of reach. The streaming video company has begun to allow customers to download offerings including Orange is The New Black, Narcos, and The Crown, Director of Product Innovation Eddy Wu says in a blog post.
---
TESLA WINS RIGHT TO OPERATE DEALERSHIPS IN RICHMOND, VA.
Tesla Motors Inc., facing opposition from the owners of car dealerships, is now eligible to operate its own stores in Richmond, Va., the Virginia Department of Motor Vehicles commissioner ruled on Wednesday. The decision is an important win for Tesla as it tries to expand sales locations ahead of the introduction next year of a lower-priced Model 3 sedan. Chief Executive Officer Elon Musk has said the $35,000 car will take Tesla's production to 500,000 in 2018 from about 50,000 last year..
Read More at Wall Street Journal Here
---
Closing Bell
– Wednesday, November 30th
Oil Surges, Markets Close Slightly Lower
Big Insider Trades
– The Charles Schwab Corp. (SCHW) CEO Walter Bettinger Sells $3m
– The Home Depot (HD) Director Mark Vadon Buys $2m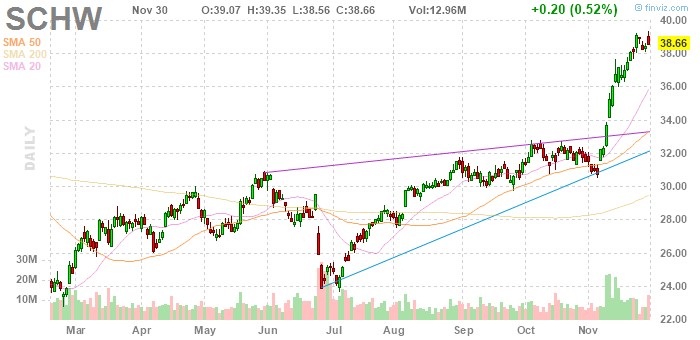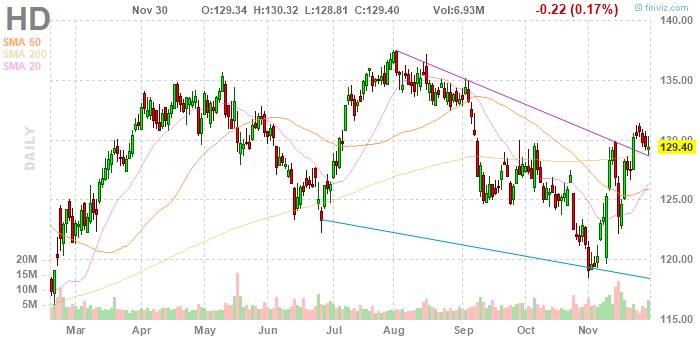 Winners & Losers
– Superconductor Technologies, Inc. (SCON) Shoots UP (49.00%) After Being Awarded Government Funding by the Department of Energy
– American Eagle Outfitters, Inc. (AEO) Nosedives DOWN (12.43%) After Dismal Holiday-Quarter Sales Forecasts
Most Talked About
Direxion Daily S&P Oil & Gas Exp. & Prod. Bull 3X Shares (GUSH) a Majority Strong Buy as OPEC Deal Has Investors Talking Oil
The TIP Sheets
– Wednesday, November 30th
– Independent Oil & Gas Companies as a Whole are Soaring UP After OPEC Agrees to Cut Production by 1 Million Barrels Per Day. A Dozen Oil Companies Finished with Gains of More than 21%, Including California Resources Corp. (CRC), with a Gain of 44.40%, and Whiting Petroleum Corp. (WLL), Which Leaped 30.28%. For the Immediate Future, Expect Shares to Continue UP
Unusual Volume
– Superconductor Technologies, Inc. (SCON) Shoots UP (49.00%) on 10m Shares Traded After Being Awarded Government Funding by the Department of Energy. The Company Was the Sole Recipient of a New Program to Improve the Manufacturing Process of Superconductive Wires. Expect Shares to Continue Strongly UP