The Capitalist Newsletter – December 12, 2016
AIRBNB AIMS TO GET ON THE RIGHT SIDE OF REGULATIONS AS IPO LOOKS IMMINENT
Airbnb's legend began as a desperate idea between friends to make rent when founders Brian Chesky and Joe Gebbia offered space on air mattresses in their tiny apartment to attendees of a design conference. Since that unorthodox day, Airbnb has avoided playing by the rules and following regulations set forth by cities whose focus leans towards taxes and profits made by hotels. Lately, however, the home-rental company has drastically shifted its behavior from fighting regulations to praising them as IPO talks loom. Will it make a difference? And can Airbnb continue to maintain profit levels by playing strictly within the lines?
Read The Capitalist's Take Here
Read More at Wall Street Journal
---
BOEING SIGNS $16.6 BILLION DEAL WITH IRAN, CLOSE TO AIRBUS ORDER
Iran signed a $16.6 billion deal for 80 Boeing (BA.N) passenger jets on Sunday and was said to be close to another for dozens of Airbus (AIR.PA) planes to complete what would be the biggest package of firm contracts with Western companies since Iran's 1979 Islamic revolution. The deal between IranAir and U.S. planemaker Boeing includes 50 narrow-body 737 MAX aircraft and 30 long-haul 777s, split equally between the 777-300ER, which is badly in need of an order boost, and the 406-seat 777-9, which is under development.
---
PAOLO GENTILONI TO SUCCEED MATTEO RENZI AS ITALIAN PRIME MINISTER
The Italian foreign minister, Paolo Gentiloni, has been chosen by Italy's president to replace Matteo Renzi as prime minister, a choice that signals continuity in the centre-left government's domestic and foreign policies at a volatile time for the eurozone's third-largest economy…
Read More at The Guardian Here
Read More at Market Watch Here
---
Closing Bell
– Friday, December 9th
Markets Have Finish Best Week Since Election as Tech and Healthcare Lead Dow Ever Higher
Big Insider Trades
– Del Taco Restaurants, Inc. (TACO) Director Patrick Walsh Sells $24m
– The Medicines Co. (MDCO) EVP Christopher Cox Buys $2,4m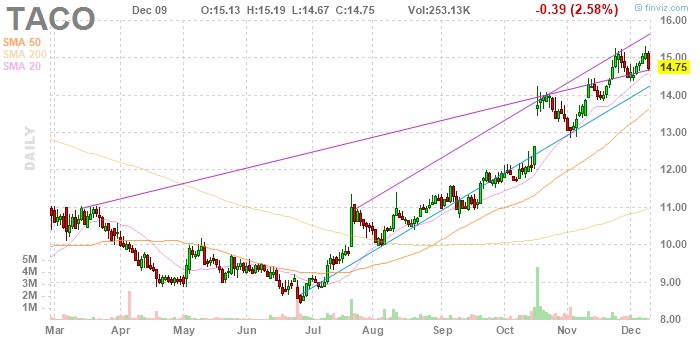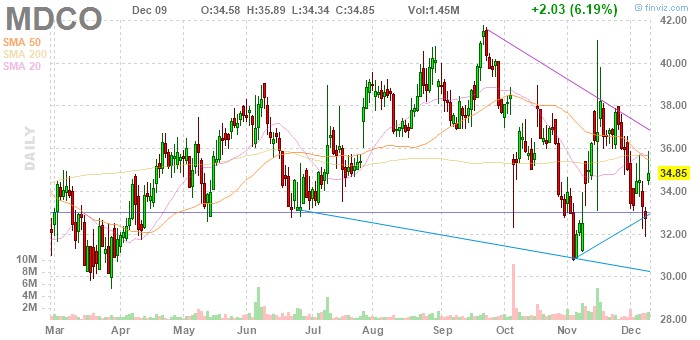 Winners & Losers
– InvenSense, Inc. (INVN) Jumps UP (27.57%) Upon News the iPhone Supplier May be Purchased by Japan's TDK
– David's Tea, Inc. (DTEA) Falls DOWN (26.34%) After Guidance Falls Short
The TIP Sheets
– Friday, December 9th
– Synergy Pharmaceuticals, Inc. (SGYP) Falls DOWN (5.78%) After Investors Take Back Gains Following Key Phase 3 Irritable Bowel Syndrome Drug. Traders Worried the Stock Rose too High too Quickly, But an IBS Drug Victory is a Win. Expect Shares to Bounce UP
Unusual Volume
– Stillwater Mining Co. (SWC) Jumps UP (17.98%) on 38m Shares Traded After the Platinum and Palladium Miner Agrees to be Acquired by Sibanye Gold. Look For Shares to Continue UP