The Capitalist Newsletter – December 13, 2016
FED EXPECTEDTO RAISE RATES THIS WEEK; MORE HIKES IN 2017?
2016 has been a quiet year for the Federal Reserve. On multiple occasions, the Fed met and decided to hold off on raising rates. This week, the Fed is meeting once again. And this time, analysts agree – rates are going up for the first time this year. Why now? Is this the start of a trend in rate increases? And what does this mean for the markets?
Read The Capitalist's Take Here
---
ELON MUSK, JEFF BEZOS AMONG TOP TECH EXECS SET TO MEET WITH DONALD TRUMP
Top execs from Tesla, Amazon, Apple, Alphabet, Facebook and Microsoft are among those set to meet with Donald Trump on Wednesday in New York City. Invitations were sent to Silicon Valley leaders last week to meet with the president-elect. The meeting is notable because leaders in tech, for the most part, vocally disapproved of Trump's campaign. The tech industry and Trump administration could clash over some important issues like net neutrality and immigration.
Read More at Wall Street Journal Here
---
CHINESE OFFICIALS EXTREMELY CONCERNED OVER TRUMP'S LOOSE STANCE ON "ONE CHINA" POLICY
China expressed alarm over U.S. President-elect Donald Trump's suggestion that he is willing to use a bedrock agreement over Taiwan as a bargaining chip in the already-fraught U.S.-China relationship…
Read More at Wall Street Journal Here
Read More at The Guardian Here
---
Closing Bell
– Monday, December 12th
Markets Close Mixed as Oil Prices Jump
Big Insider Trades
– Insperity, Inc. (NSP) Director Peter Feld Sells $2.5m
– Tristate Capital Holdings, Inc. (TSC) CEO James Getz Buys $100k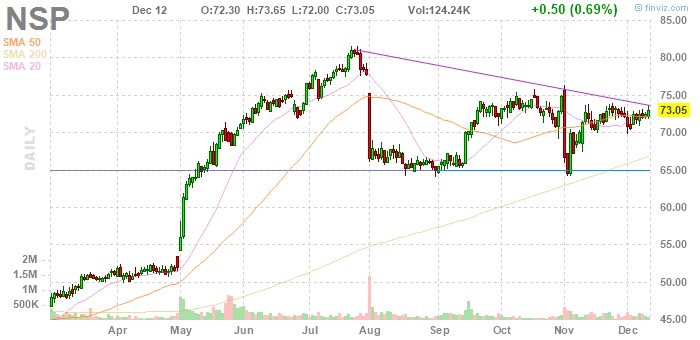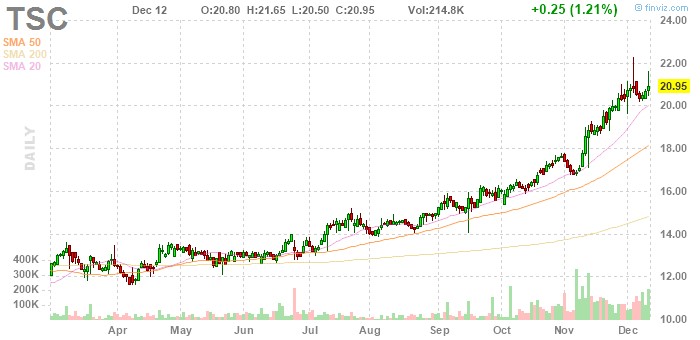 Winners & Losers
– Achaogen, Inc. (AKAO) Rockets UP (148.19%) After Positive UTI Results in Two Drug Trials
– Ophthotech Corp. (OPHT) Collapses DOWN (86.38%) After Company Reports Disappointing Results from Two Phase 3 Clinical Trials
Most Talked About
Achaogen, Inc. (AKAO) a Majority Strong Buy After Shooting UP (148.19%) on Positive UTI Results in Two Drug Trials
The TIP Sheets
– Monday, December 12th
– Lockheed Martin Corp. (LMT) Continues Fall DOWN (2.47%) Following Trump's Tweets About F-35 Costs. Trump Will Likely Continue to Target the Defense Service, Meaning Expect Shares to Continue DOWN
Unusual Volume
– Alexion Pharmaceuticals, Inc. (ALXN) Falls DOWN (12.86%) on 15m Shares Traded After CEO, CFO Exit. Look For Shares to Continue DOWN