The Capitalist Newsletter – December 16, 2016
TRUMP MEETS WITH TECH INDUSTRY LEADERS; HERE'S WHAT WE LEARNED
President-Elect Donald Trump has never backed down from an argument. The man is known to hold a grudge – just ask Rosie O'Donnell. So it was a surprise when he invited leaders from the tech industry to a meeting at Trump Towers to foster innovation and agree to fair trade deals. But while Trump extended an olive branch to tech leaders who openly campaigned for Hillary Clinton, some big names were absent from the meeting. What can we expect moving forward from Trump and tech?
Read The Capitalist's Take Here
---
RUPERT MURDOCH AND FOX AGREE TO BUY OUT SKY IN $14.6 BILLION DEAL
Rupert Murdoch's Twenty-First Century Fox has struck a $14.6 billion deal to buy European pay-TV firm Sky that unites a media empire across two continents and helps it take on rivals like Netflix in the battle for viewers. Fox said it would pay 10.75 pounds per share – or 11.7 billion pounds – for the 61 percent of Sky it does not already own to control a business with 22 million customers in Britain, Ireland, Italy, Germany and Austria.
Read More at Wall Street Journal Here
Read More at Huffington Post Here
---
INSTAGRAM DOUBLES IN SIZE IN TWO YEARS; REACHES 600 MILLION ACTIVE MONTHLY USERS
Instagram has reached 600 million monthly active users, adding its latest 100 million users faster than it ever has before, the company said on Thursday. Instagram's user base has doubled in size from 300 million monthly users to 600 million monthly users in two years. Instagram reached 500 million users in June, adding its latest 600 million users in six months. It took the app nine months to grow from 400 million users to 500 million users…
---
Closing Bell
– Thursday, December 15th
Markets Close Higher as Financials Lead the Way
Big Insider Trades
– Best Buy Co., Inc. (BBY) Stake Owner Richard Schulze Sells Another $4m
– Viacom, Inc. (VIAB) Director Ronald Nelson Buys $700k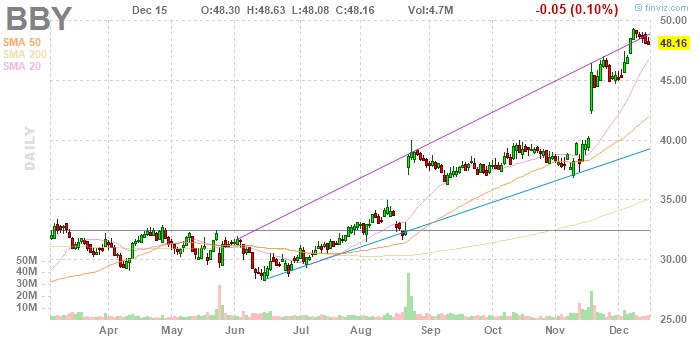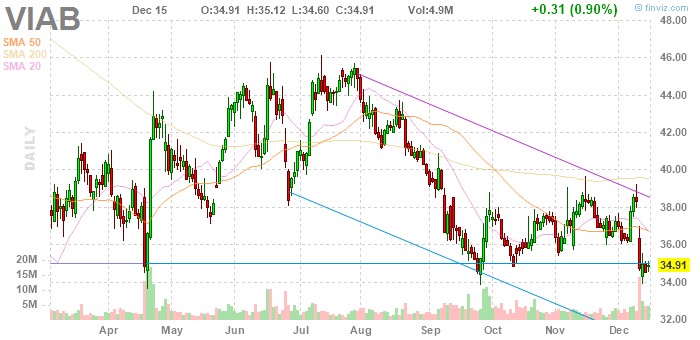 Winners & Losers
– Dyships, Inc. (DRYS) Soars UP (52.11%) After Agreeing to $200 Million Debt Restructuring Plan Under Revolving Facilitiy
– Pacific Biosciences of California (PACB) Collapses DOWN (43.62%) in Response to News that Roche is Terminating Partnership Agreement with the Company
Most Talked About
Euroseas, Ltd. (ESEA) a Majority Strong Buy After Soaring UP (79.86%) After the Company Announces Acquisition of Feeder Containership and Private Placement of Common Stock
The TIP Sheets
– Thursday, December 15th
– Yahoo!, Inc. (YHOO) Tumbles DOWN (6.11%) After Announcing Another, Separate Security Breach Affecting 1 Billion User Accounts – the Largest Hack on Record. As a Result, Verizon is Expected to Withdraw from Acquiring the Company. Look for Shares to Continue DOWN
Unusual Volume
– Pier 1 Imports, Inc. (PIR) Jumps UP (32.25%) on 27.5m Shares Traded After Company Posts Blowout Q3 Earnings Reports and Seeing Huge Upturn in Sales Following Presidential Election. Expect Shares to Continue UP