The Capitalist Newsletter – December 2, 2016
TRUMP-PENCE STRIKE DEAL WITH CARRIER TO KEEP INDIANA JOBS; HERE'S WHY THAT MAY NOT BE GREAT NEWS
Donald Trump and Mike Pence just struck a deal to keep about 1,100 jobs in Indiana. The President-Elect and Vice President-Elect have agreed to give $7 million in tax breaks to United Technologies Corp.,parent company of air conditioning and heating manufacturer Carrier, to keep Carrier from moving its plant from Indiana to Mexico. On the surface, that looks like a big political win for Trump. But what's the catch? Is there a downside to this deal?
Read The Capitalist's Take Here
Read More at The New York Times
---
STARBUCKS CEO STEPS DOWN TO FOCUS ON HIGH-END COFFEE SHOPS
Starbucks CEO Howard Schultz is stepping down next year, the company announced on Thursday. Schultz will be replaced by Starbucks' president and COO, Kevin Johnson, effective April 3. Johnson has been a member of Starbucks' board of directors for seven years.
Read More at Business Insider Here
---
TRUMP TAPS RETIRED MARINE GENERAL JAMES "MAD DOG" MATTIS FOR SECRETARY OF DEFENSE
President-elect Donald Trump has chosen retired Marine Gen. James N. Mattis to be secretary of defense, according to people familiar with the decision, selecting a former senior military officer who has said that responding to "political Islam" is the major security issue facing the United States..
Read More at The Washington Post Here
---
Closing Bell
– Thursday, December 1st
Tech Lags as Dow Jumps, Nasdaq and S&P Dip
Big Insider Trades
– The Charles Schwab Corp. (SCHW) President Walter Bettinger Sells Another $7.75m
– SunOpta, Inc. (STKL) Director Albert Bolles Buys $300k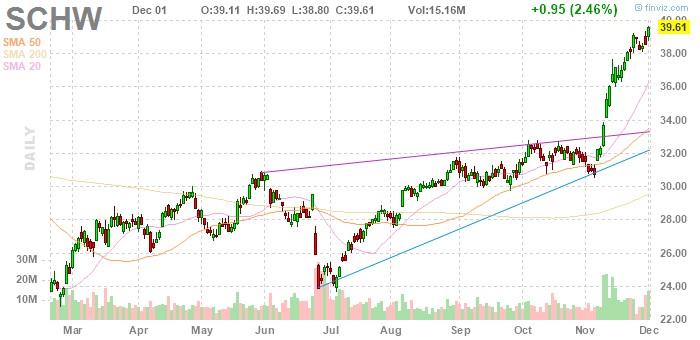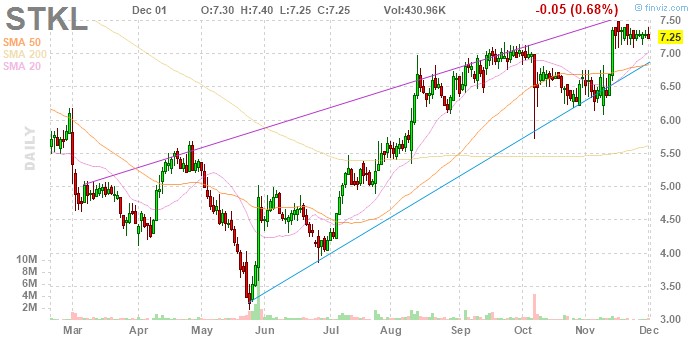 Winners & Losers
– Tilly's, Inc. (TLYS) Shoots UP (41.84%) After Announcing Surprisingly Good Q3 Results with Huge Spike in In-Store Traffic
– Express, Inc. (EXPR) Falls DOWN (20.36%) to 52-Week Low After Much Weaker Than Expected Q3 Results
Most Talked About
Venaxis, Inc. (APPY) Surges UP (46.67%), But Still a Split Decision After Activist Investor Increases Ownership by 16%
The TIP Sheets
– Thursday, December 1st
– Starbucks Corp. (SBUX) CEO Howard Schultz Stepped Down After Trading Hours. Schultz Will Remain with Starbucks and Focus on Building High End Stores for the Company. Shares May Drop on the News, Which Makes This a Great Buy Opportunity as Shares Will Bounce Back UP
Unusual Volume
– SeaDrill, Ltd. (SDRL) Jumps UP (10.39%) on 39m Shares Following OPEC Deal Momentum. However, Recent Guidance From the Company States the Interest Expense is Likely to Eat ⅔ of Operating Income in Q4. Expect Shares to Fall DOWN