The Capitalist Newsletter – December 28, 2016
U.S. DOLLAR SURGES; BUT COMES WITH A CATCH
The U.S. dollar has reached a 14-year high following Donald Trump's election win combined with the Federal Reserve raising interest rates for the second time in a decade. And while a strong dollar shows optimism for the U.S. economy, there is also a downside to the dollar's strength. Surprisingly, Mr. Trump's promises to strengthen the dollar and U.S. manufacturing may be at odds with each other. How can a strong dollar hurt the country's manufacturing?
Read The Capitalist's Take Here
Read More at Wall Street Journal
---
PANASONIC TO INVEST OVER $256 MILLION IN TESLA'S BUFFALO PLANT FOR SOLAR CELLS
Panasonic will invest more than $256 million in a New York production facility of Elon Musk's Tesla Motors to make photovoltaic (PV) cells and modules, deepening a partnership of the two companies. Japan's Panasonic, which has been retreating from low-margin consumer electronics to focus more on automotive components and other businesses targeting corporate clients, will make the investment in Tesla's factory in Buffalo, New York.
---
DELTA AIRLINES SCRAPS BOEING DREAMLINER ORDER INHERITED THROUGH NORTHWEST AIRLINES MERGER
Delta Air Lines Inc. scrapped an order for 18 Boeing Co. widebody Dreamliner jets valued at $4 billion at list prices, a commitment that was inherited with the company's 2008 merger with Northwest Airlines. Atlanta-based Delta reached an agreement with Boeing on the cancellation, without disclosing terms, according to a statement from the carrier Tuesday. The airline is sticking with orders already in progress for 120 narrowbody Boeing 737-900ERs. The 787-8 Dreamliners had been on Delta's order book since the Northwest Airlines deal.
Read More at Wall Street Journal Here
---
Closing Bell
– Tuesday, December 27th
Markets Close Slightly Higher Behind Tech
Big Insider Trades
– Facebook, Inc. (FB) COO Sheryl Sandberg Sells $12.8m
-Six Flags Entertainment Corp. (SIX) CEO John Duffey Buys $1.5m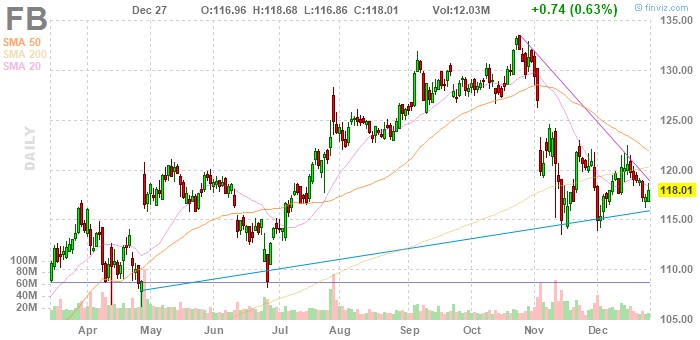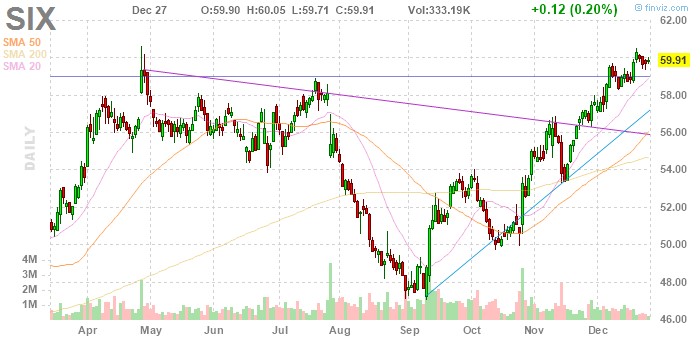 Winners & Losers
– Conatus Pharmaceuticals, Inc. (CNAT) Soars UP (37.92%) After Analyst Buy Reiteration Following Collaboration and License Agreement with Novartis
– Endologix, Inc. (ELGX) Tumbles DOWN (26.70%) After Investigation into Medical Device Manufacturing Issue Causes Company to Halt Shipments of its Top Product
Most Talked About
Tesla Motors, Inc. (TSLA) Sees Uptick in Chatter, Considered Majority Strong Buy After Panasonic Increases Stake in Partnership and Companies Begin Producing Solar Cells in Buffalo Plant.
The TIP Sheets
– Tuesday, December 27th
– Seattle Genetics, Inc. (SGEN) Plummets DOWN (15.36%) After Announcing FDA Has Put a Clinical Hold on Multiple Early Stage Clinical Trials Testing its Cancer Drug. Expect Shares to Continue DOWN
Unusual Volume
– Conatus Pharmaceuticals, Inc. (CNAT) Soars UP (37.92%) on 23.5m Shares Traded After its Buy Rating is Reiterated by Analysts Buy Reiteration Following Collaboration and License Agreement with Novartis. Look For Shares to Continue UP