The Capitalist Newsletter – December 29, 2016
APPEALS COURT RULES AGAINST SEC; FINDS USE OF IN-HOUSE JUDGE SYSTEM UNCONSTITUTIONAL
The enforcement arm of the SEC took a big hit Wednesday as a federal appeals court has ruled that the use of in-house administrative judges by the U.S. Securities and Exchange Commission is unconstitutional. The surprise ruling comes just four months after another appeals court ruled that the appointment of the same judges is upheld by the constitution. What changed? And how does this affect the SEC?
Read The Capitalist's Take Here
Read More at Wall Street Journal
---
TOSHIBA CRASHES AS COMPANY MAY BE FORCED TO TAKE MULTI-BILLION DOLLAR HIT ON U.S. NUCLEAR ACQUISITION
Toshiba Corp said it may have to book several billion dollars in charges related to a U.S. nuclear power plant construction company acquisition, sending its stock tumbling 12% and rekindling concerns about its accounting acumen. The Japanese group said cost overruns at U.S. power projects handled by the CB&I Stone & Webster Inc business it acquired last December from Chicago Bridge & Iron Company NV would be much greater than initially expected, potentially requiring a huge writedown.
---
QUALCOMM HIT WITH $853 FINE BY SOUTH KOREA ANTITRUST REGULATORS
Qualcomm Inc. can easily afford an $853 million fine assessed by South Korea's antitrust authority. But the company's run-ins with regulators around the world are threatening to do longer-term damage to Qualcomm's business model. The South Korean agency said the U.S. chipmaker acted improperly in licensing some of its important patents on mobile phone technology. In echoes of Qualcomm's headaches in other parts of the globe, the antitrust regulator also said Qualcomm twisted the arms of customers to pay for patents to buy Qualcomm's processors, which are essential building blocks of nearly every smartphone sold in the world.
Read More at Wall Street Journal Here
---
Closing Bell
– Wednesday, December 28th
Markets Close Lower as Crude Levels Off
Big Insider Trades
– Alphabet, Inc. (GOOG) President Sergey Brin Sells $26.75 m
-Digimarc Corp. (DMRC) Director Gary Destefano Buys $700k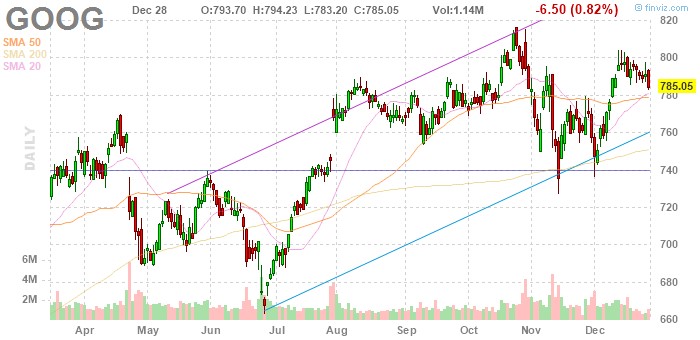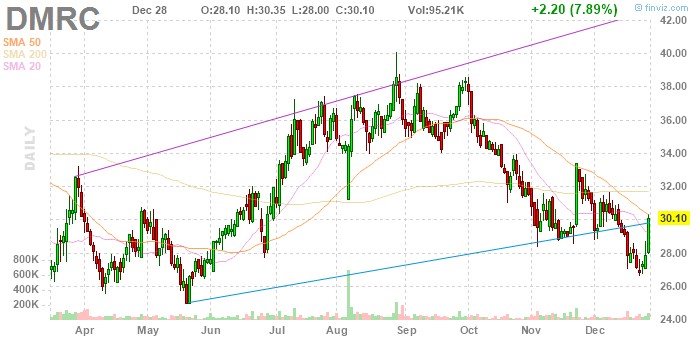 Winners & Losers
– Kate Spade & Company (KATE) Shoots UP (23.09%) on News the Company is Exploring Selling Itself
– Intrepid Potash, Inc. (IPI) Falls DOWN (19.62%) After Rumors that the Company May Not Sell Itself Off After All
Most Talked About
Sprint Corporation (S) a Unanimous Strong Buy After Ticking UP (0.35%) Following Donald Trump Praising the Company for Bringing 5k Jobs Back to the U.S.
The TIP Sheets
– Thursday, December 28th
– Galena Biopharma, Inc. (GALE) Shoots UP (21.43%) After Company Reveals "Productive" Meeting with FDA. Galena Expects to Start Late-Stage Trials for Rare Blood Disease Drug in Q2 as a Result. Look for Shares to Continue UP
Unusual Volume
– NVIDIA Corp. (NVAD) Falls DOWN (6.88%) on 57m Shares Traded After Citron Research Tweets Expectations of Stock to Drop to $90. Expect Shares to Continue DOWN