The Capitalist Newsletter – December 30, 2016
U.S. DECLARES RUSSIA INTERFERED WITH PRESIDENTIAL ELECTION; ISSUES SANCTIONS
Following Donald Trump's underdog election victory over Hillary Clinton to secure the White House, a lot of chatter was aimed at leaked emails which hurt the Clinton campaign. Rumors abounded that the Russian government interfered with the election by hacking Clinton's emails and releasing those emails strategically to maximize the effect of the leak and help Trump win office. Now, those rumors have been verified by the government and President Obama has retaliated by issuing executive orders to grant more authority for sanctions against Russia. How will Russia respond? What can investors expect as a result?
Read The Capitalist's Take Here
---
MONDAY NIGHT FOOTBALL SCORES SECOND-WORST SEASON SINCE 2006
If not for this past Monday night's highly watched NFL game, The Walt Disney Co's ESPN network would have had its smallest audience for Monday Night Football in 2016 since the 2006 season. The National Football League has been plagued all season by ratings downturns, forcing its TV partners to give free extra commercial time to advertisers to compensate for lower-than-promised ratings. Advertiser demand has remained high though, as NFL games still attract more viewers than almost everything else on television, according to the Nielsen ratings service.
---
KATE SPADE COMMENCING FORMAL SALE PROCESS NEXT MONTH; EYES ON COACH?
Kate Spade & Co., which is exploring a sale of the handbag maker, plans to kick off a formal auction process next month, with interest from six possible bidders, according to a person familiar with the situation. The New York-based retailer is working with financial advisers on sale preparations, said the person, who asked not to be identified because the details aren't public. The potential bidders for Kate Spade, which has a market value of about $2.3 billion, are mostly other retailers, the person said.
Read More at Entrepreneur Here
---
Closing Bell
– Thursday, December 29th
Markets Tick Down After Mixed Data, New Sanctions on Russia
Big Insider Trades
– Facebook, Inc. (FB) CPO Christopher Cox Sells $1.8m
-Vera Bradley, Inc. (VRA) Director Patricia Miller Buys $17m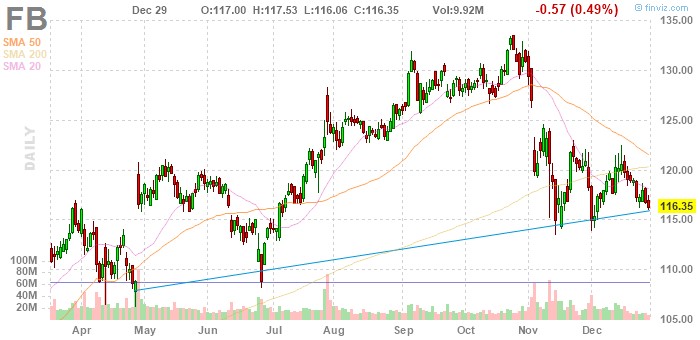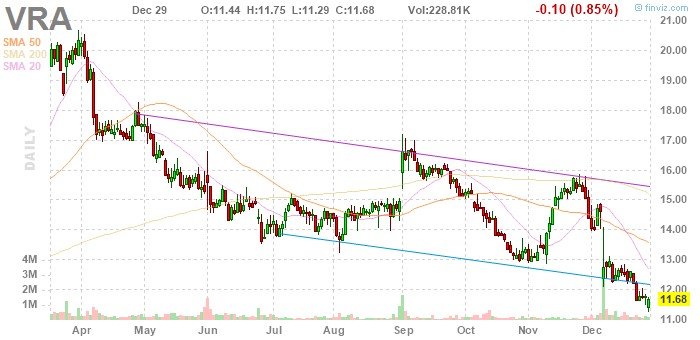 Winners & Losers
– Cesca Therapeutics, Inc. (KOOL) Sails UP (36.00%) Following Massive Common Stock Insider Buy
– Cempra, Inc. (CEMP) Craters DOWN (57.38%) After FDA Delay Following Safety Issues Cause Concern About Getting Pneumonia Drug Approved
Most Talked About
Sears Holdings Corp. (SHLD) a Majority Strong Sell Sears CEO Edward Lampert Announces he Will Inject $200M into the Struggling Retailer
The TIP Sheets
– Thursday, December 29th
– Kate Spade & Co. (KATE) Ticks UP Another (3.53%) After Announcing Formal Sale Process Will Begin Next Month for $2.3 Billion. With 6 Potential Bidders, Including Michael Kors and Coach, Expect Shares to Continue UP
Unusual Volume
– Cempra, Inc. (CEMP) Craters DOWN (57.38%) on 21m Shares Traded After FDA Delay Following Safety Issues Cause Concern About Getting Pneumonia Drug Approved. With the Company Counting on the Antibiotic, Look For Shares to Continue DOWN