The Capitalist Newsletter – December 8, 2016
MENTAL HEALTH ADVOCATES CELEBRATE AS SENATE PASSES MASSIVE HEALTH REFORM LAW
On Wednesday, the Senate passed the 21st Century Cures Act by a whopping 94-5 vote. The Cures Act eases FDA drug and device approvals, speeding up FDA approvals. And while investors and politicians from both parties embraced the bill, the legislation has drawn strong criticism from experts within the medical community. Why are they so worried? How does this affect the markets?
Read The Capitalist's Take Here
---
GOOGLE SAYS COMPANY WILL RUN 100% ON RENEWABLE ENERGY IN 2017
Google expects to purchase enough renewable energy to cover its entire operation for the first time ever next year, the company announced Tuesday. The company will purchase about 2.6 gigawatts of wind and solar energy annually (enough to more power more than 1 million homes) to power its office and data center operations around the globe.
---
FACEBOOK TEAMS WITH MICROSOFT AND GOOGLE TO COMBAT EXTREMIST CONTENT
Web giants YouTube, Facebook, Twitter and Microsoft will step up efforts to remove extremist content from their websites by creating a common database. The companies will share 'hashes' – unique digital fingerprints they automatically assign to videos or photos – of extremist content they have removed from their websites to enable their peers to identify the same content on their platforms.
Read More at The Guardian Here
---
Closing Bell
– Wednesday, December 7th
Dow Sets 12th Record Close as Markets Soar
Big Insider Trades
– Independent Bank Group, Inc. (IBTX) Director Douglas Cifu Sells $2.8m
– The Wendy's Company (WEN) Director Nelson Peltz Buys $17m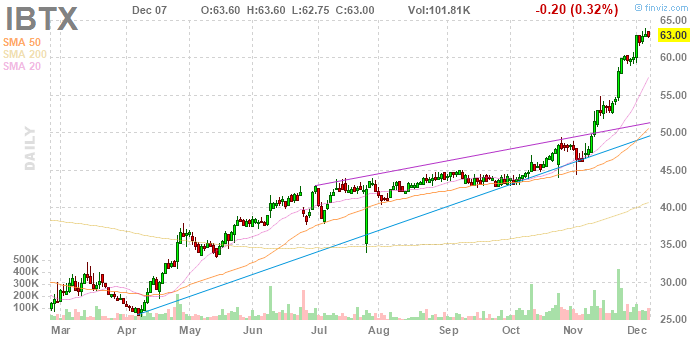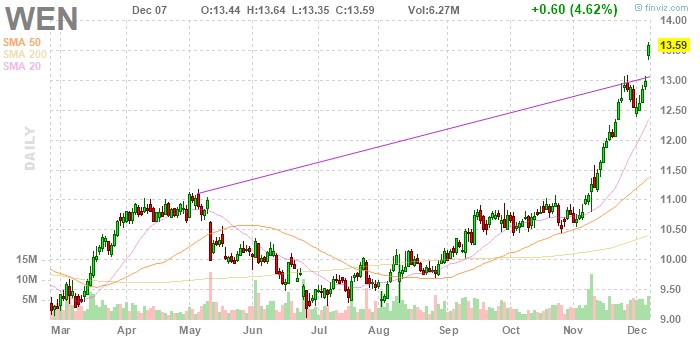 Winners & Losers
– Dave and Buster's Entertainment, Inc. (PLAY) Soars UP (18.75%) on Strong Earnings Report and Raised Guidance
– Sigma Designs, Inc. (SIGM) Falls DOWN (27.74%) After Earnings Decline and Analyst Downgrade
Most Talked About
Alere, Inc. (ALR) a Unanimous Strong Sell After Abbott Labs Files to Pull Out of Acquisition
The TIP Sheets
– Wednesday, December 7th
– Alere, Inc. (ALR) Tumbles DOWN (8.00%) After Abbott Labs Files Suit to Terminate $5.8 Billion Acquisition of Alere, Citing Setbacks Which Have Eroded the Value of the Medical Test Maker. Expect Shares to Continue to Tumble DOWN
Unusual Volume
– Fidelity National Finacial, Inc. (FNF) Ticks UP (4.78%) on 9m Shares Traded After Announcing the Company Will Spin Off Black Knight Financial and Fidelity National Financial Ventures as Independent Public Companies. Look For Shares to Continue UP