The Capitalist Newsletter – December 9, 2016
TRUMP TAPS HARDEE'S CEO AS SECRETARY OF LABOR; CAUSES OUTRAGE AMONG MANY WORKERS
To say it's been an interesting ride since Donald Trump won the White House would be an understatement. Trump has doggedly pursued some promises while retreating from others. He's put together a cabinet with a combined net worth of over $11 billion, staffed with members who seem at odds with some of his promises, and others who have caused anger and outrage from voters. But Trump's appointment of Andy Puzder as Secretary of Labor has many American workers in an uproar. Why are they so upset? And what can we expect from Puzder as Secretary of Labor?
Read The Capitalist's Take Here
---
TIME,INC. HIRES BANKS TO ADVISE ON TAKEOVER, PARTNERSHIP INTERESTS
Time Inc, the publisher of Time, People and Fortune magazines, has tapped Morgan Stanley and Bank of America Corp to help field takeover or partnership interest, the Wall Street Journal reported. It is far from guaranteed there will be a sale of the company or any other deal, the Journal reported.
---
CHINA IMPOSES ATM WITHDRAWAL LIMITS IN MACAU TO CRACK DOWN ON HOW GAMBLERS MOVE CASH
Casino stocks dropped in Australia and the U.S. after a report that China is imposing a 50 percent cut on UnionPay ATM withdrawal limits in Macau, widening a crackdown on how gamblers move cash into the enclave. The cap on the China UnionPay Co. cards, used by about half of mainland Chinese gamblers to withdraw money in Macau, takes effect Saturday, reducing the ceiling to 5,000 patacas ($626), according to the report. Crown Resorts Ltd. dropped as much as 8 percent, the biggest decline in almost two months, in Sydney trading on Friday.
Read More at Business Insider Here
Read More at Investor's Business Daily Here
---
Closing Bell
– Thursday, December 8th
Financials Lead Markets Higher
Big Insider Trades
– Salesforce.com, Inc. (CRM) CEO Marc Benioff Sells $900k
– Tootsie Roll Industries, Inc. (TR) President Ellen Gordon Buys $2m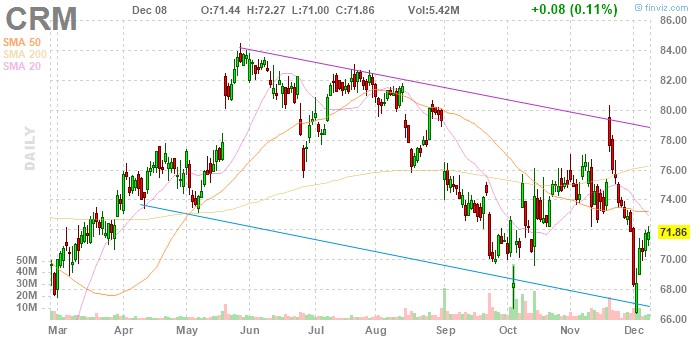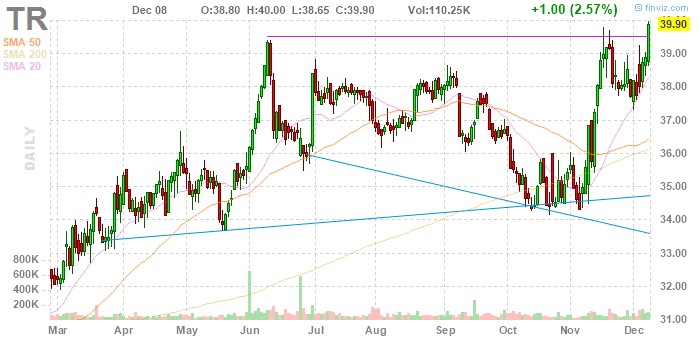 Winners & Losers
– Majesco Entertainment Co. (COOL) Surges UP (63.61%) After Announcing Merger with PolarityTE, Inc.
– Las Vegas Sands, Co. (LVS) Tumbles DOWN (12.78%) After Macau Crackdown Limits Amount of Cash Gamblers Can Take Out
Most Talked About
Majesco Entertainment Company (COOL) a Majority Strong Buy After Announcing Merger with PolarityTE, Inc.
The TIP Sheets
– Thursday, December 8th
– Casino Companies as a Whole Are Down After Macau Crackdown Limits Amount of Cash Gamblers Can Take Out From ATMs. For Example, MGM Resorts Intl. (MGM) is DOWN (4.34%), and Las Vegas Sands (LVS) is DOWN (12.78%). Expect Shares to Bounce Back UP
Unusual Volume
– Lululemon Athletica, Inc. (LULU) Jumps UP (15.04%) on 16.5m Shares Traded After Blowing by Earnings Estimates and Raising Guidance. Paired with an Analyst Upgrade, Look For Shares to Continue UP