The Capitalist Newsletter – February 1, 2017
TRUMP ANNOUNCES HIS SUPREME COURT NOMINATION; HERE'S WHAT WE KNOW
Justice Antonin Scalia passed away in February of 2016. While President Obama moved to fill the role, Republicans, including President Donald Trump, stalled, saying that the American people should have a voice in who takes over the empty seat. Now, that seat has a possible successor as Donald Trump went on Facebook Live to announce his choice of Denver Federal Appeals Judge Neil Gorsuch.. What do we know about Gorsuch?
Read The Capitalist's Take Here
---
TRUMP FIRES ACTING ATTORNEY GENERAL AFTER SHE DECLINES TO DEFEND TRAVEL BAN
President Donald Trump fired acting Attorney General Sally Yates Monday night for "refusing to enforce a legal order designed to protect the citizens of the United States," the White House said. "(Yates) has betrayed the Department of Justice," the White House statement said. Dana Boente, US attorney for the Eastern District of Virginia, was sworn in at 9 p.m. ET, per an administration official. A few hours later, Boente issued a statement rescinding Yates' order, instructing DOJ lawyers to "defend the lawful orders of our President." …
---
PROSECUTORS MULLING CHILD PORNOGRAPHY CHARGES FOR ANTHONY WEINER
Federal prosecutors are considering whether to bring child pornography charges against former Rep. Anthony Weiner (D-N.Y.), according to a new report. The possible charges stem from Weiner's allegedly sexually explicit exchanges with a 15-year-old girl last year, The Wall Street Journalreported Tuesday, citing people familiar with the matter. The Journal said the FBI and the U.S. attorney's office are investigating Weiner's interactions with the teenager…
Read More at New York Post Here
---
Closing Bell
– Tuesday, January 31st
Markets Close Lower as Caution Follows Political Turmoil
Big Insider Trades
– BankUnited, Inc. (BKU) Chairman of the Board John Kanas Sells $83.75m
– Opko Health, Inc. (OPK) CEO Phillip Frost Buys $180k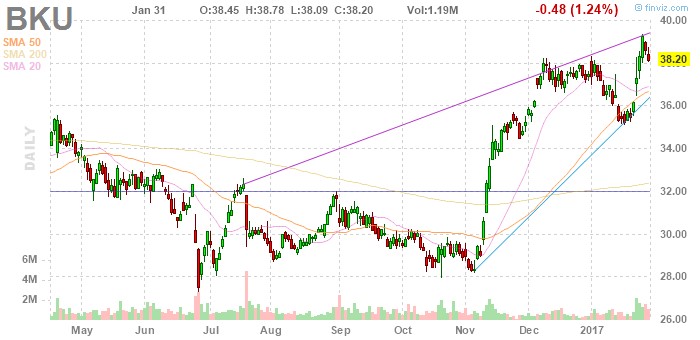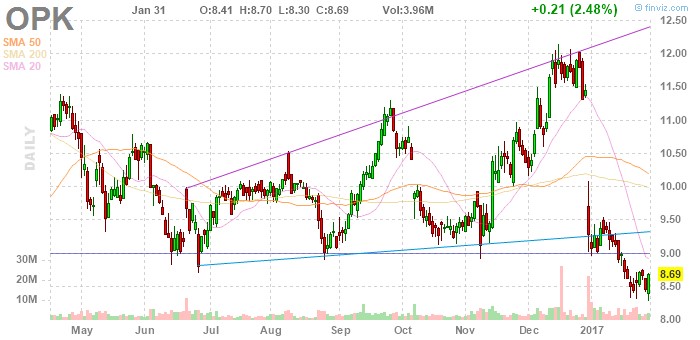 Winners & Losers
– DryShips, Inc. (DRYS) Floats UP (105.28%) After Completing $200 Million Share Offering to Kalani Investment Ltd.
– First NBC Bank Holding Company (FNBC) Falls DOWN (32.77%) After Being Downgraded by Analysts Following Law Firm Investigation
Most Talked About
United Parcel Service, Inc. (UPS) Evenly Split After Falling DOWN (6.75%) Following Q4 Miss as e-Commerce Surges Still Causing Problems
The TIP Sheets
– Tuesday, January 31st
– Momenta Pharmaceuticals, Inc. (MNTA) Jumps UP (25.17%) After Winning a Patent Infringement Case. The Victory Moves the Drugmaker One Step Closer to Selling its Generic Version of Regularly Taken Drug Copaxone. Expect Shares to Continue UP
Unusual Volume
– Under Armour, Inc. (UAA) Tumbles DOWN (25.74%) on 54m Shares Traded After Revenue Hits a Wall. As Company Struggles to Find a Solution, Expect Shares to Continue DOWN