The Capitalist Newsletter – February 10, 2017
KELLYANNE CONWAY UNDER FIRE FOR ETHICS VIOLATION; TRUMP ADMINISTRATION TO FOLLOW?
President Trump's Senior Advisor Kellyanne Conway is no stranger to controversy. She's been in a constant battle with the media since Trump took office, famously coming under fire for her use of "alternative facts" and her "Bowling Green Massacre" example for tightening border security. But while her interviews have come under fire in the past, she's never crossed any ethical lines – until now. Conway took advantage of a live national news broadcast to go offtopic and specifically plug Ivanka Trump's clothing brand. Is Conway in trouble? How does this affect the Trump administration?
Read The Capitalist's Take Here
---
SNAP COMMITS TO SPENDING $1 BILLION WITH AMAZON WEB SERVICES
If you want to see why Snap's costs are so high, look to the clouds. Snap said in an updated IPO filing on Thursday that, on top of its previously disclosed deal to spend $400 million a year on Google's cloud services, the company is spending $1 billion over the next five years with Amazon Web Services. Snap broke out the spending per year with AWS, revealing that in 2017 it will spend $50 million on AWS, with the amount rising over time…
---
U.S. JOBLESS CLAIMS DROP TO NEAR 43-YEAR LOW
The number of Americans filing for unemployment benefits unexpectedly fell last week to near a 43-year low, amid a further tightening of the labor market that could eventually spur faster wage growth. Other data on Thursday showed inventories at wholesalers surged in December for a second straight month and sales recorded their biggest increase since 2011, signs of confidence in the economy as domestic demand strengthens. Initial claims for state unemployment benefits dropped by 12,000 to a seasonally adjusted 234,000 for the week ended Feb. 4, the Labor Department said. That left claims just shy of the 43-year low of 233,000 touched in early November…
Read More at Wall Street Journal
---
Closing Bell
– Thursday, February 9th
Markets Close at Record Highs on Trump Tax Cut Talk
Big Insider Trades
– Netflix, Inc. (NFLX) CPO Neil Hunt Sells $1.5m
– Enterprise Products Partners L.P. (EPD) Director James Hackett Buys $1m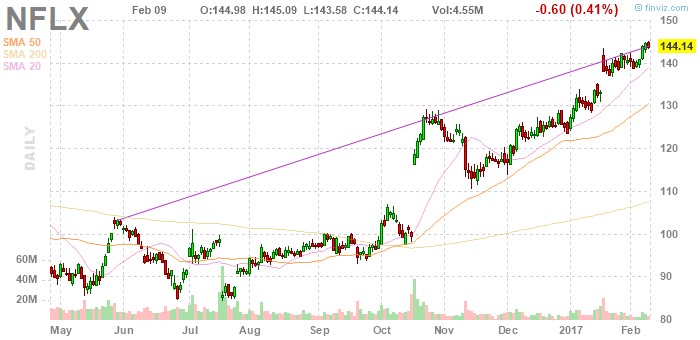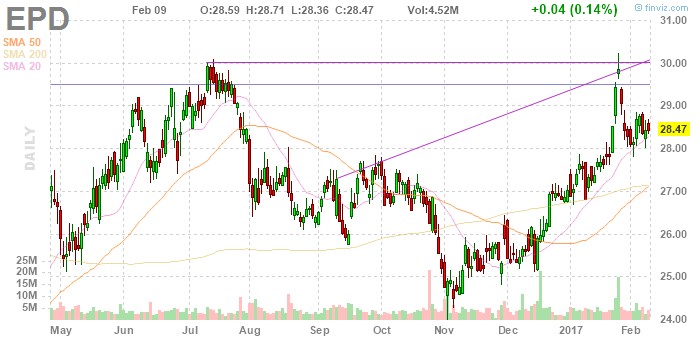 Winners & Losers
– Aqua Metals, Inc. (AQMS) Soars UP (41.63%) After Johnson Controls Takes 5% Stake in the Company to Boost Battery Business
– Vista Outdoor, Inc. (VSTD) Plunges DOWN (18.61%) to Record Low After Slumping Gun Sales Lead to Sales Miss, Slashed Outlook
Most Talked About
Anthem, Inc. (ANTM) Split Down the Middle After Merger with Cigna Rejected by Judge.
The TIP Sheets
– Thursday, February 9th
– Jaguar Animal Health, Inc. (JAGX) Rockets UP (51.40%) After Announcing the Company Will Merge with Napo Pharmaceuticals. Expect Shares to Continue UP
Unusual Volume
– Twitter, Inc. (TWTR) Tumbles DOWN (12.34%) on 109m Shares Traded After Revenue and New User Numbers Fail to Climb, Despite Trump, a Deal with the NFL, and a New Effort to Stream Live Video. Expect Shares to Continue DOWN