The Capitalist Newsletter – February 15, 2017
FED CHAIR YELLEN TESTIFIES BEFORE CONGRESS ON STATE OF ECONOMY AND FED INTEREST RATES
Since Donald Trump's inauguration, the economy has seemed surprisingly strong. The stock market has surged to record highs behind Trump's plans for tax reforms and corporate stimulus packages. But on Tuesday, Federal Reserve chairwoman Janet Yellen testified before Congress as to whether we should be worried or not. What does the Fed think about the direction in which our economy is headed?
Read The Capitalist's Take Here
---
MICHAEL FLYNN, TRUMP'S NATIONAL SECURITY ADVISOR, RESIGNS AMIDST RUMORS OF RUSSIAN TIES
Embattled White House national security adviser Michael Flynn resigned Monday night, an abrupt end to a brief tenure. His departure came just after reports surfaced that the Justice Department warned the Trump administration last month that Flynn misled administration officials regarding his communications with the Russian ambassador to the United States and was potentially vulnerable to blackmail by the Russians.
Read More at The Huffington Post Here
---
HUMANA BECOMES FIRST INSURER TO ANNOUNCE IT WILL DROP OUT OF OBAMACARE EXCHANGE
Humana said it will leave the commercial individual insurance business effective in 2018 including coverage offered on public exchanges under the Affordable Care Act after being unable to successfully manage the costs of sick patients. The Louisville, Ky.-based insurer is the first major insurer to announce its plans for next year as the Republican-led Congress and the White House under Donald Trump struggle to come up with a repeal, repair or replacement for the ACA…
---
Closing Bell
– Tuesday, February 14th
Markets Continue Historic Rise as Investors Buy Into Yellen's Congressional Testimony
Big Insider Trades
– Alphabet, Inc. (GOOG) President Sergey Brin Sells $27.5m
– Arconic, Inc. (ARNC) Stakeholder Elliott International Buys Yet Another $7m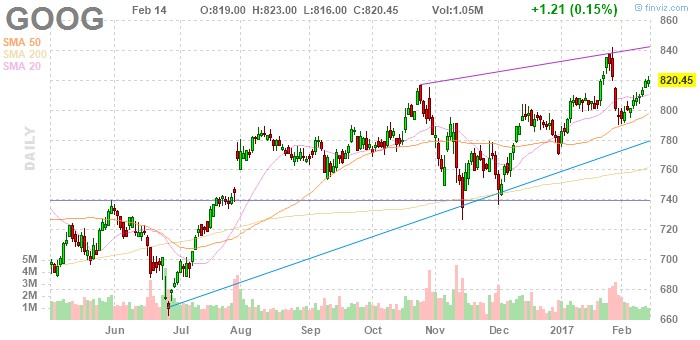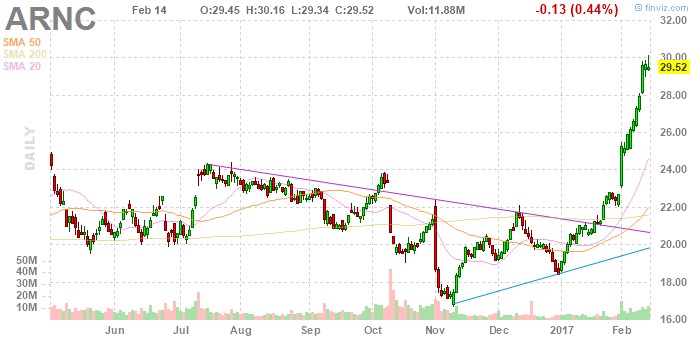 Winners & Losers
– ZAIS Group Holdings, Inc. (ZAIS) Doubles UP (110.73%) After Founder Discloses 7.5% Stake in the Company in SEC Filing
– British American Tobacco plc (BTI) Slips DOWN (50.41%) as a Result of Announced Stock Split and Analyst Downgrade
Most Talked About
Humana, Inc. (HUM) a Unanimous Strong Buy Even After Aetna Merger Dies After Announcing it Will be First Insurer to Walk Away From Obamacare
The TIP Sheets
– Tuesday, February 14th
– GigPeak, Inc. (GIG) Surges UP (12.55%) After Announcing the Company Will be Acquired by IDT Inc. for $250 Million All Cash Deal. Expect Shares to Continue UP
Unusual Volume
– Northern Dynasty Minerals Ltd. (NAK) Falls DOWN (21.38%) on 65m Shares Traded After a Capital Management Company Publishes a Scathing Report on Short Position. Expect Shares to Continue DOWN