The Capitalist Newsletter – February 16, 2017
TRUMP'S LABOR PICK WITHDRAWS FROM CONSIDERATION; SHOULD THE ADMINISTRATION BE WORRIED?
It seems like President Trump's administration has been under constant fire recently. The media has lampooned Kellyanne Conway for her "alternative facts" and "Bowling Green massacre" quotes. And that was before her possible breach of ethics while hocking Ivanka Trump's clothing brand on national TV with a "free commercial". Secretary of Education Betsy DeVos was confirmed solely on a historic tie breaking vote by Vice President Mike Pence, a dangerous sign considering Republicans control the Senate. Just a few days ago, Trump's National Security Advisor Michael Flynn resigned under allegations of impropriety with Russian contacts. Now, Trump's pick to head the labor department, Andy Puzder, has withdrawn from consideration for the position. Why would Puzder withdraw? And should the administration be concerned?
Read The Capitalist's Take Here
Read More at The Wall Street Journal
---
TIME WARNER SHAREHOLDERS APPROVE AT&T BUYOUT
Time Warner shareholders cast a resounding vote on Wednesday in support of the company's proposed $85.4 billion merger with AT&T, setting the stage for the federal government's review of the deal. The vote was held at a special meeting in Atlanta with shareholders for Time Warner, which is the parent company of CNN, HBO, TNT and others…
---
WALMART ACQUIRES OUTDOOR APPAREL RETAILER MOOSEJAW TO BOOST ONLINE SALES
Walmart is buying Moosejaw, a company based here that specializes in outdoor recreation apparel and gear, in a bid to strengthen the global retail juggernaut's online offerings for $51 million in cash, the companies announced Wednesday. Walmart said it will continue to operate the website and 10 stores for Moosejaw, known for its quirky, cutting-edge marketing, as a standalone site and separate retail outlets…
---
Closing Bell
– Wednesday, February 15th
Markets Continue Climb UP as Financials Lead the Way Behind Trump Tax Reform Expectations
Big Insider Trades
– Vonage Holdings Corp. (VG) President Antoine Jamous Sells $2.6m
– Dell Technologies, Inc. (DVMT) CEO Michael Dell Buys $700k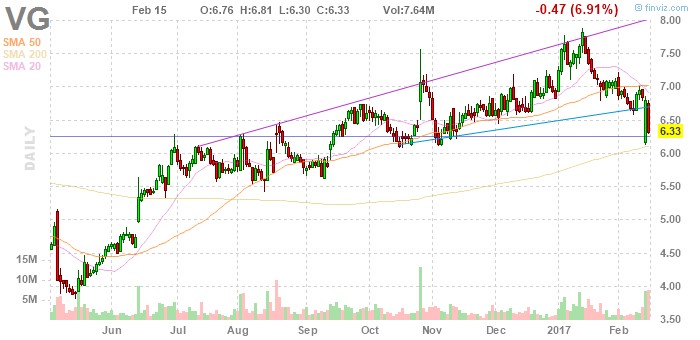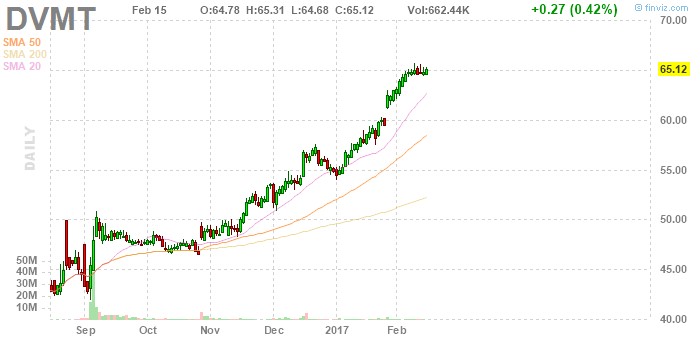 Winners & Losers
– Zosano Pharma Corp. (ZSAN) Rises UP (41.09%) on Reports of Successful Phase 3 Migraine Drug Trial Results
– Sino-Global Shipping America, Ltd. (SINO) Falls DOWN (24.49%) After Failed $4.8m Stock Offering
Most Talked About
SodaStream International Ltd. (SODA) a Majority Strong Buy After Q4 Profit Triples
The TIP Sheets
– Wednesday, February 15th
– Zosano Pharma Corp. (ZSAN) Jumps UP (41.09%) After Migraine Drug Trial Success. But Analyst Upgrade Shows Expectation that the Drug Will See Approval Quickly. Expect Shares to Continue UP
Unusual Volume
– Fortress Investment Group LLC (FIG) Spikes UP (28,66%) on 151.5m Shares Traded After Announcing SoftBank of Japan Will Buy the Private Equity Giant. Expect Shares to Continue UP