The Capitalist Newsletter – February 22, 2017
UPS REVEALS DELIVERY DRONE TO MIXED RESULTS; BUT CAN IT DELIVER HIGHER PROFITS?
While e-commerce is a huge plus for shoppers, giving us more options at better prices delivered right to our front door, online shopping is a huge logistics headache for the companies who have to deliver those packages. Cheap shipping in huge volume can hurt profit margins for delivery services, causing some to speculate about rising delivery prices in the future. To offset those price hikes, UPS is exploring technology options such as it's "HorseFly" drone, which it revealed in a live demonstration on Tuesday. Unfortunately, while the drone's initial demo went smoothly, a followup didn't quite go as planned. Do flying deliveries mean high profits?
Read The Capitalist's Take Here
---
TRUMP DENOUNCES ANTI-SEMITISM AFTER MOUNTING CRITICISM BY JEWISH GROUPS, OTHERS
President Donald Trump denounced anti-Semitism on Tuesday, following mounting calls for him to address a rash of bomb threats against Jewish community centers and the vandalism of hundreds of Jewish graves at a Missouri cemetery. "The anti-Semitic threats targeting our Jewish community at community centers are horrible and are painful and a very sad reminder of the work that still must be done to root out hate and prejudice and evil," Mr. Trump said at a speech at the National Museum of African American History & Culture, which he visited Tuesday morning.
Read More at Wall Street Journal Here
---
MILO YIANNOPOULOS RESIGNS FROM BREITBART FOLLOWING OUTRAGE OVER PAST COMMENTS ENDORSING PEDOPHILIA
Milo Yiannopoulos, the incendiary writer and commentator who helped make Breitbart News a leading organ of the "alt-right," resigned from the news organization Tuesday after a video of him endorsing pedophilia resurfaced online over the weekend. Yiannopoulos — known simply as MILO in Breitbart's own coverage of him — has been a flame-throwing provocateur whose writing has offended women, Muslims, blacks and gay people ever since former Breitbart executive chairman Stephen K. Bannon hired him as a senior editor in 2014…
---
Closing Bell
– Tuesday, February 21st
Markets Close with Another Record High as All Sectors Finish Up
Big Insider Trades
– Insperity, Inc. (NSP) CEO Paul Sarvadi Sells $2.5m
– NuStar GP Holdings, LLC (NSH) Director William Greehey Buys $2m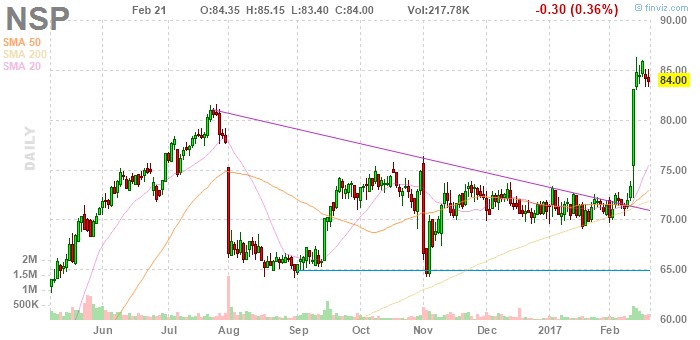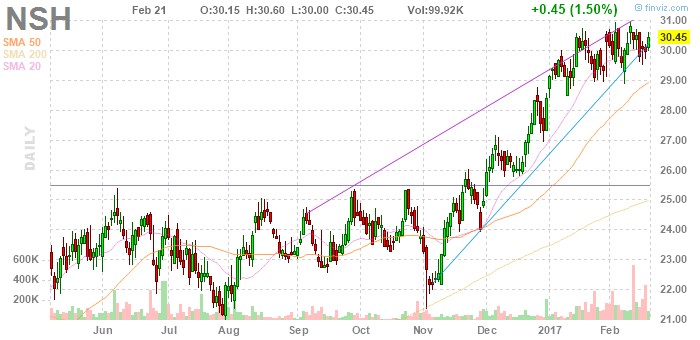 Winners & Losers
– Eyegate Pharmaceuticals, Inc. (EYEG) Skyrockets UP (125.62%) on News of $4 Million Valeant Licensing Agreement
– Global Eagle Entertainment, Inc. (ENT) Slides DOWN (27.97%) After Law Firm Launches Investigation on Behalf of Shareholders
Most Talked About
Eyegate Pharmaceuticals, Inc. (EYEG) Considered a Majority Strong Buy After Valeant Pharmaceuticals Licenses the Company's Eyegate II Delivery System
The TIP Sheets
– Tuesday, February 21st
– Popeyes Louisiana Kitchen, Inc. (PLKI) Surges UP (19.07%) After Burger King Owner Restaurant Brands Agrees to Acquire Fried Chicken Chain for $1.8 Billion. Expect Shares to Continue UP
Unusual Volume
– Eyegate Pharmaceutical, Inc. (EYEG) Soars UP (125.62%) on 30m Shares Traded After Valeant Pharmaceuticals Licenses the Company's Eyegate II Delivery System. Expect Shares to Continue UP