The Capitalist Newsletter – February 23, 2017
GOOGLE'S WAZE SET TO EXPAND RIDE-SHARING SERVICE; PUTS UBER ON NOTICE
The days of standing on a street corner and hailing a taxi are long dead. Today, people summon a car to wherever they are in minutes at the push of a button. Ridesharing isn't just a phenomenon or trend, it's the present and future of transportation. And no one has done ridesharing better than Uber. That's partly because they were among the first to market with the idea, but also because they have the deepest pockets, currently having a valuation of more than $68 billion. But now, there are deeper pockets entering the ridesharing industry – Google. With a $527 billion valuation, Google parent company Alphabet eclipses Uber in terms of coffers. But is money enough for Google to derail Uber?
Read The Capitalist's Take Here
---
FED MINUTES: OFFICIALS SEE RATE INCREASES "FAIRLY SOON"
Federal Reserve officials at their latest meeting anticipated raising short-term interest rates "fairly soon" in light of an improving economy and the possibility that the Trump administration's proposed economic policies could push inflation up faster than anticipated.
Read More at Wall Street Journal Here
---
SWITZERLAND'S ABB UNCOVERS $100 MILLION KOREAN FRAUD AS SUSPECT VANISHES
ABB Ltd. uncovered embezzlement at its South Korean subsidiary after the local treasurer suspected of stealing from the company went missing, leaving a $100 million shortfall in last year's results. The suspect, who disappeared Feb. 7, is suspected of forging documents and colluding with third parties in a "sophisticated criminal scheme," Zurich-based ABB said in a statement on Wednesday. After checking balances of its global bank accounts, the company said the impact is limited to the Asian nation…
Read More at Business Insider Here
---
Closing Bell
– Wednesday, February 22nd
Nasdaq, S&P Close Down, But Dow Continues Rise as Rate Hike Looks Imminent.
Big Insider Trades
– Time Warner, Inc. (TWX) CEO Jeffrey Bewkes Sells $16.6m
– Jamba, Inc. (JMBA) Director Glenn Welling Buys $1.2m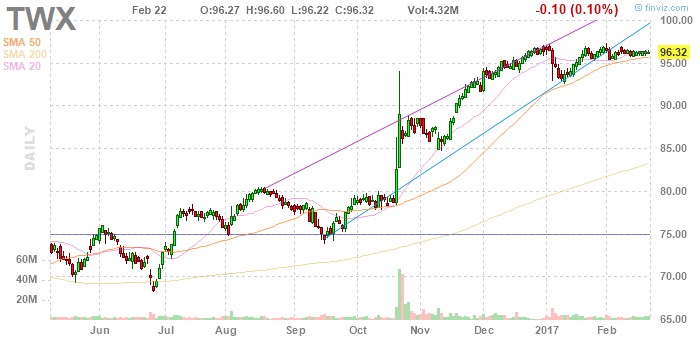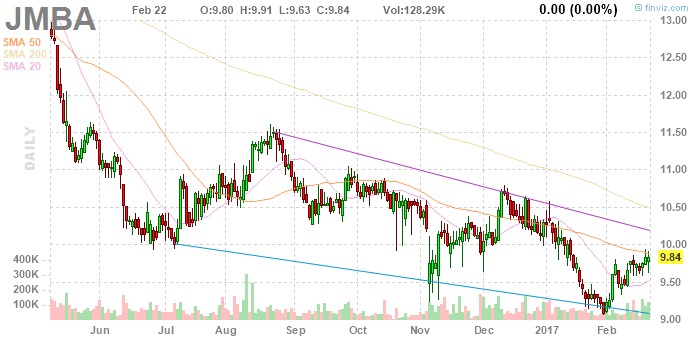 Winners & Losers
– Lantheus Holdings, Inc. (LNTH) Jumps UP (29.95%) After Solid Q4 Results Alongside a New Deal with GE Healthcare
– Argus Therapeutics, Inc. (ARGS) Plummets DOWN (66.48%) After Cancer Treatment Study Recommended to be Discontinued for Futility
Most Talked About
Dish Network Corp. (DISH) Considered a Unanimous Strong Buy After Strong Earnings Report Fueled by Subscriber Growth
The TIP Sheets
– Wednesday, February 22nd
– Texas Roadhouse, Inc. (TXRH) Tumbles DOWN After Disappointing Same Store Sales Declines. Expect Shares to Continue DOWN
Unusual Volume
– Oclaro, Inc. (OCLR) Slips DOWN (11.39%) on 22m Shares Traded After Company Admits Not Knowing What is Happening Regarding Deal with Chinese Partner ZTE. Expect Shares to Continue DOWN