The Capitalist Newsletter – February 24, 2017
U.S. TREASURY SECRETARY MNUCHIN ANNOUNCES AGGRESSIVE TIMELINE FOR TAX PLAN; WHAT CAN WE EXPECT?
The stock market has been riding high for weeks on anticipation of President Donald Trump's tax reform plans. On Thursday, traders finally received some insight into what to expect and when to expect it as Treasury Secretary Steven Mnuchin laid out an aggressive timeline for the White House to reveal its long-awaited plan. Is the new date realistic? What can we expect from the plan?
Read The Capitalist's Take Here
---
TRUMP REVOKES OBAMA GUIDELINES ON TRANSGENDER BATHROOMS
President Donald Trump's administration on Wednesday revoked landmark guidance to public schools letting transgender students use the bathrooms of their choice, reversing a signature initiative of former Democratic President Barack Obama. Reversing the Obama guidelines stands to inflame passions in the latest conflict in America between believers in traditional values and social progressives, and is likely to prompt more of the street protests that followed Trump's Nov. 8 election.
Read More at New York Times Here
---
SPACEX'S DRAGON CAPSULE ARRIVES AT SPACE STATION FOR RESTOCKING SUPPLIES
A day after aborting an attempted docking, SpaceX's Dragon spacecraft arrived at the International Space Station on Thursday and was captured by the station's robotic arm while flying over Australia. The spacecraft is carrying 5,500 pounds of supplies and science experiments for the astronauts aboard the station. It launched Sunday from pad 39A at NASA's Kennedy Space Center on Florida's Space Coast. It was the first time a rocket had flown from the historic pad, which hosted many of the Apollo moon missions, since the space shuttle was retired in 2011…
---
Closing Bell
– Thursday, February 23rd
Dow Posts 10th Straight Record High as Nasdaq Notches Back to Back Losses
Big Insider Trades
– Pool Corp. (POOL) CEO Manuel Perez de la Mesa Sells $2.5m
– GNC Holdings, Inc. (GNC) Interim CEO Robert Moran Buys $5m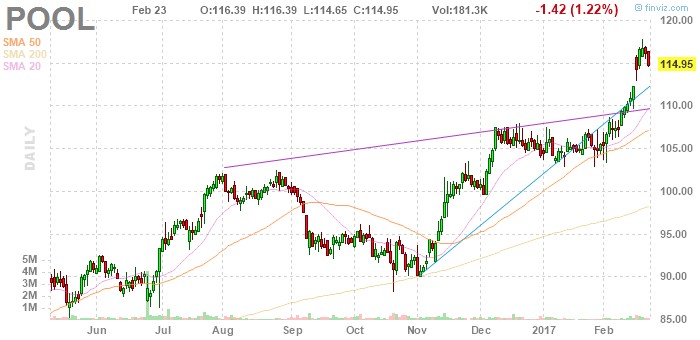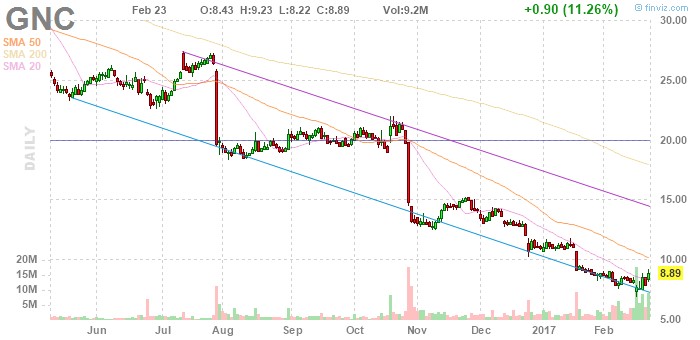 Winners & Losers
– Nova Lifestyle, Inc. (NVFY) Jumps UP (38.67%) After Reporting Record Signups
– Cyclacel Pharmaceuticals, Inc. (CYCC) Tumbles DOWN (25.14%) After Drug Fails Phase 3 Trials
Most Talked About
Cyclacel Pharmaceuticals, Inc. (CYCC) Considered a Majority Strong Sell After Leukemia Drug for Elderly Patients Fails in Key Study
The TIP Sheets
– Thursday, February 24th
– Pernix Therapeutics Holdings, Inc. (PTX) Surges UP (19.70%) After Patent Case Win Against Generic From Actavis Labs. Expect Shares to Continue UP
Unusual Volume
– Square, Inc. (SQ) Soars UP (14.03%) on 44m Shares Traded After Analyst Upgrade Following New Retail Offering. Expect Shares to Continue UP