The Capitalist Newsletter – February 6, 2017
TRUMP SIGNS EXECUTIVE ORDER TO REPEAL DODD-FRANK ACT; WHAT'S NEXT FOR FINANCIALS?
Following the 2008 financial crisis, the Obama administration enacted the Dodd-Frank Act to provide tighter regulations for the banking industry in order to prevent another meltdown. The Act was meant to protect consumers from bad investment advice by requiring banks to be more stringent in their investment and loans processes. However, critics of the act say that it hurts the economy by making it too difficult to borrow money. Now, those critics have their day as President Trump signed an executive order to begin the repeal of Dodd-Frank. What does this mean for the financial industry?
Read The Capitalist's Take Here
---
IRAN HOLDS MILITARY EXERCISES IN DEFIANCE OF U.S. SANCTIONS
In apparent defiance of the new sanctions imposed by the Trump administration, Iran held a military exercise Saturday to test missile and radar systems. The aim of the exercise, held in Semnan province, was to "showcase the power of Iran's revolution and to dismiss the sanctions," Iran's elite Revolutionary Guards website said, according to Reuters. During the exercise, a senior commander of Iran's Revolution Guard said the country's missiles will come down on the country's enemies if they do wrong.
---
APPEALS COURT REJECTS TRUMP'S BID TO QUICKLY RESTORE TRAVEL BAN
A federal appeals court early Sunday denied the Justice Department's request to immediately reinstate President Trump's order restricting refugees and travelers from seven majority-Muslim countries from entering the U.S. The ruling came just hours after the department filed an emergency motion to stay Judge James L. Robart of Seattle's order that halted the implementation of restrictions imposed by Trump's order nationwide.
---
Closing Bell
– Friday, February 3rd
Markets Close Higher as Financials Soar Following Trump's E.O. to End Dodd-Frank Act
Big Insider Trades
– Live Nation Entertainment, Inc. (LYV) CEO Michael Rapino Sells Another $2m
– EnviroStar, Inc. (EVI) EVP Thomas Marks Buys $1m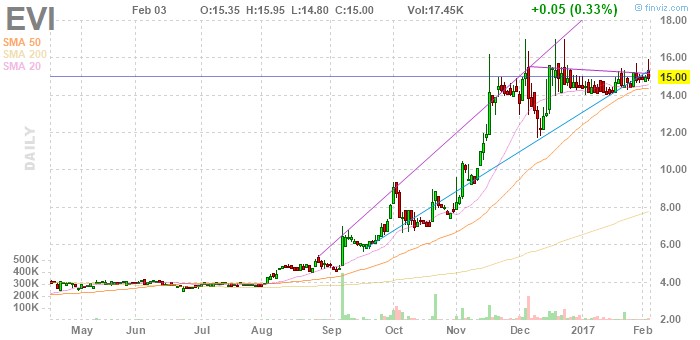 Winners & Losers
– Sevcon, Inc. (SEV) Jumps UP (48.46%) After Announcing it has Been Contracted by a European Manufacturer for a Major Drivetrain Project
– Power Solutions International, Inc. (PSIX) Plummets DOWN (62.42%) After Nasdaq Halts its Trade Until the Company Provides Further Requested Information to the Market
Most Talked About
Lockheed Martin Corp. (LMT) a Strong Buy After Slashing Cost of its F-35 in Response to Trump's Criticism
The TIP Sheets
– Friday, February 3rd
– Hanesbrands, Inc. (HBI) Slides DOWN (16.42%) After News the Company Could be Punished for Dye Spill from Dye Plant Rupture. Worst Case Scenario Looks Like a Fine. Expect Shares to Bounce Back UP
Unusual Volume
– Macy's, Inc. (M) Finally Pops UP (6.41%) on 48m Shares Traded After News that the Owner of Saks Fifth Avenue May Acquire the Retailer . Expect Shares to Continue UP