The Capitalist Newsletter – February 7, 2017
JPMORGAN CHASE RECEIVES APPROVAL TO UNDERWRITE CORPORATE BONDS IN CHINA; REST OF INDUSTRY TO FOLLOW?
The financial sector seems to be alive and well under Donald Trump's new administration. For all his talk of demonizing Wall Street, Trump seems to have taken a shine to banks and their executives. And even though President Trump has a rocky relationship with China, one of his closest banks just did something no bank has ever done before – receive a license to underwrite corporate bonds in China's interbank bond market. Is the bank's relationship with the president the reason for the historic license? Will other banks be far behind?
Read The Capitalist's Take Here
---
MYLAN SETTLES PROVIGIL ANTITRUST CLASS ACTION SUIT FOR $96 MILLION
Mylan NV agreed to pay $96.5 million to settle claims that the company conspired to delay a generic version of Cephalon Inc.'s Provigil drug in exchange for payment from the company. The agreement, which is subject to approval by U.S. District Judge Mitchell Goldberg, was revealed in a Feb. 3 filing in federal court in Philadelphia.
---
APPLE, FACEBOOK, GOOGLE, AMONG 97 TECH COMPANIES TO FILE LEGAL BRIEF AGAINST TRUMP'S TRAVEL BAN
Silicon Valley is stepping up its confrontation with the Trump administration. On Sunday night, technology giants Apple, Facebook, Google, Microsoft, Netflix, Twitter, Uber and many others filed a legal brief opposing the administration's contentious entry ban, according to people familiar with the matter. The move represents a rare coordinated action across a broad swath of the industry — 97 companies in total— and demonstrates the depth of animosity toward the Trump ban.
---
Closing Bell
– Monday, February 6th
Markets Close Down as Investors Pull Back on Risk
Big Insider Trades
– Starbucks Corp. (SBUX) Director William Bradley Sells $6m
– QUALCOMM, Inc. (QCOM) EVP Christiano Amon Buys $1m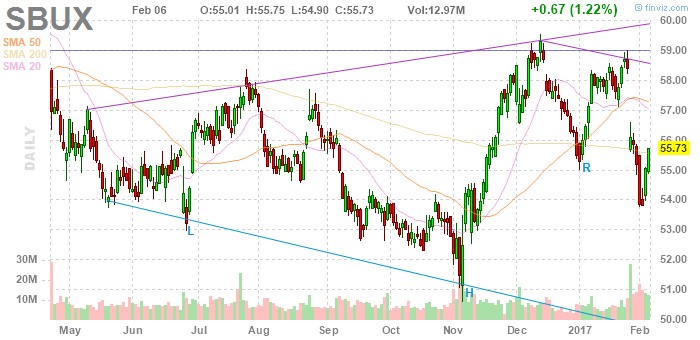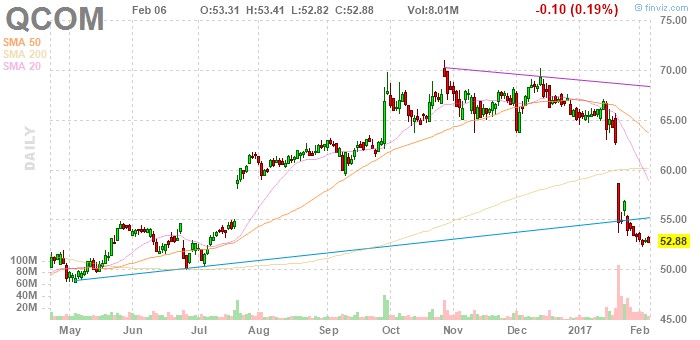 Winners & Losers
– Naked Brand Group, Inc. (NAKD) Hops UP (18.93%) After Positive Reaction to its New Clothing Line, "Comfortably You"
– comScore, Inc. (SCOR) Slips DOWN (28.42%) After the Company Announces it Will be Unable to Regain Compliance with Reporting Requirements, Risking Being Delisted from the Nasdaq
Most Talked About
Hasbro, Inc. (HAS) Considered a Majority Strong Buy After Crushing Earnings
The TIP Sheets
– Monday, February 6th
– Cabot Oil & Gas Corp. (COG) Surges UP (10.73%) After Analyst Upgrade and Pipeline Approval. Expect Shares to Continue UP
Unusual Volume
– Hasbro, Inc. (HAS) Jumps UP (14.14%) on 12.5m Shares Traded After Beating Earnings with Record Holiday Quarter Leads to Stock Hitting All Time High.Expect Shares to Continue UP