The Capitalist Newsletter – February 9, 2017
INTEL TO INVEST $7 BILLION IN MOTHBALLED PLANT; PIVOT AWAY FROM PC MANUFACTURING
Intel has worked for years to reinvent itself as something other than a PC company. That mission was why the microchip maker originally spent $5 billion on a facility in Chandler, AZ in 2011. Now, that facility will get dusted off as Intel CEO Brian Kraznich announced that the company would spend $7 billion to bring the plant online. The announcement came as Kraznich stood shoulder to shoulder with President Trump and promised to create 3,000 high-wage jobs. Is the announcement just a PR stunt or can Intel deliver?
Read The Capitalist's Take Here
---
CALIFORNIA STATE WATER BOARD CONSIDERING ENDING EMERGENCY DROUGHT REGULATIONS
Following a deluge of rain and snow this winter, California regulators on Wednesday were meeting to decide whether to let the state's emergency drought rules expire. The State Water Resources Control Board is holding an all-day meeting in Sacramento with the drought regulations one of the items on the agenda. The staff recommendation is for the board to extend the emergency regulations until the state can assess the water supply situation in April and May. The current regulations are set to expire Feb. 28.
Read More at Wall Street Journal Here
---
TRUMP'S CRITICISM OF NORDSTROM RAISES CONFLICT CONCERN
Where the White House saw a father standing up for his daughter, an ethics expert saw an implicit threat. President Donald Trump lashed out Wednesday at Nordstrom, the latest company to draw his Twitter attention, saying the department store chain that decided to stop selling his daughter's clothing and accessory line has treated her "so unfairly." Though Trump has tweeted in the past about companies such as the U.S. automakers, Boeing and Carrier, his action drew a rebuke from ethics experts saying the fact that this one was about a business run by his daughter raised conflict-of-interest concerns. Trump's tweet follows revelations that First Lady Melania Trump expected to develop "multi-million dollar business relationships" tied to her presence in the White House, according to a suit she filed…
---
Closing Bell
– Wednesday, February 8th
Markets Close Mixed as Financials Tumble
Big Insider Trades
– Autonation, Inc. (AN) EVP Jonathan Ferrando Sells $2.5m
– Walgreens Boots Alliance, Inc. (WBA) Co-COO Ornella Barra Buys $10m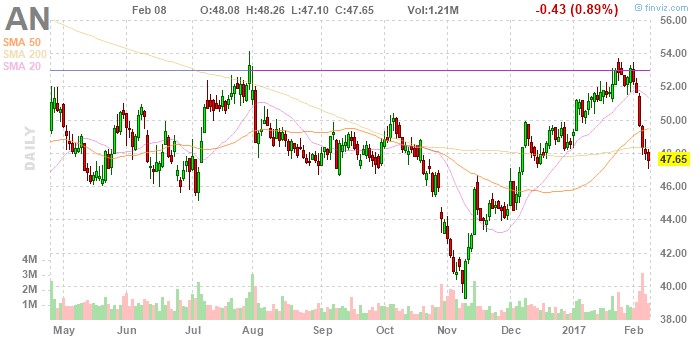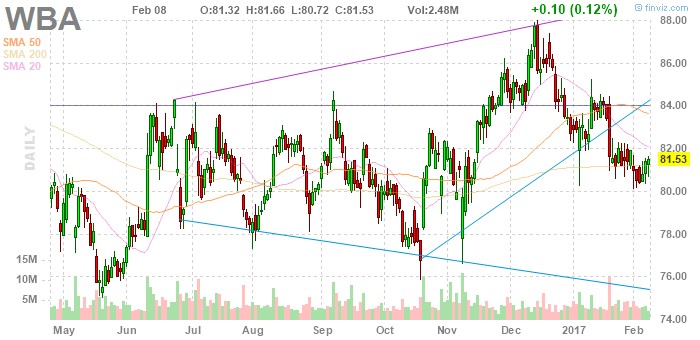 Winners & Losers
– Aehr Test Systems (AEHR) Surges UP (35.75%) After FOX-XP Test and Burn-in System Products Order
– Galena Biopharma, Inc. (GALE) Plunges DOWN (40.46%) to Record Low After Stock Offering is Priced at a Steep Discount
Most Talked About
Nordstrom, Inc. (JWN) Considered a Majority Strong Sell After Coming Under Twitter Fire From Trump Following the Retailer Cutting Ivanka Trump's Line
The TIP Sheets
– Wednesday, February 8th
– GrubHub, Inc. (GRUB) Slips DOWN (3.51%) After Q4 Earnings Miss and Trump Supporter Boycott. However, Due to Sales Beat, Expect Shares to Bounce Back UP
Unusual Volume
– Gilead Sciences, Inc. (GILD) Slips DOWN (8.61%) on 51.5m Shares Traded After Dismal Q4 Results and Expected Sales Drop of 20-25% for 2017 from Last Year. Expect Shares to Continue DOWN