The Capitalist Newsletter – January 10, 2017
TRUMP MEETS WITH ALIBABA CHAIRMAN JACK MA; WILL CREATE 1 MILLION AMERICAN JOBS?
President-Elect Donald Trump's big campaign promise was to create more jobs, especially in the manufacturing space. Thus far, he's held to that promise, threatening companies who consider moving manufacturing plants out of the country with expensive import taxes. And though his criticism of companies hasn't always been accurate, his intention is clear – keep jobs in the U.S. Now, Trump is working to not just keep jobs in the country, but to create more as Trump met with Alibaba. Trump said the meeting was great, and focused on creating 1m American jobs over the next five years. However, Ma's language doesn't quite match up with Trump's. What can we expect to come from this meeting? Is Trump really creating 1m American jobs?
Read The Capitalist's Take Here
---
FBI ARRESTS VOLKSWAGEN EXEC ON CONSPIRACY CHARGES FOLLOWING EMISSIONS SCANDAL
The F.B.I. has arrested a Volkswagen executive in Florida, accusing him of playing a central role in a broad conspiracy to keep United States regulators from discovering that diesel vehicles made by the company were programmed to cheat on emissions tests..
---
TRUMP NAMES SON-IN-LAW KUSHNER AS SENIOR ADVISER
President-elect Donald Trump's son-in-law Jared Kushner, who emerged as a key figure in the Republican's successful 2016 campaign, will be named senior adviser to the president, the campaign announced Monday. "Jared has been a tremendous asset and trusted advisor throughout the campaign and transition and I am proud to have him in a key leadership role in my administration," Trump said in a statement announcing the appointment. …
Read More at Wall Street Journal Here
---
Closing Bell
– Monday, January 9th
Markets Close Mostly Lower as Oil Drops
Big Insider Trades
– Facebook, Inc. (FB) Chief Operating Officer Sheryl Sandberg Sells $13m
-Aquinox Pharmaceuticals, Inc. (AQXP) Baker Bros. Advisors Buys $6.8m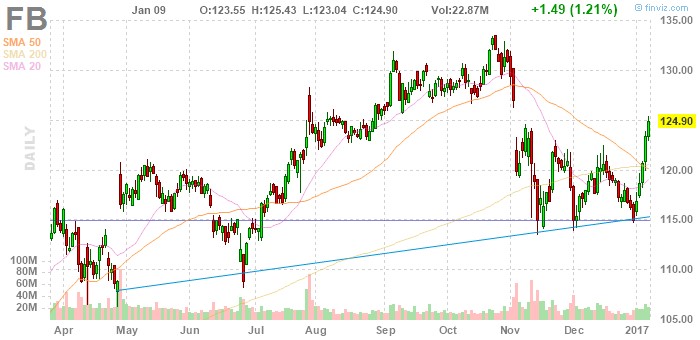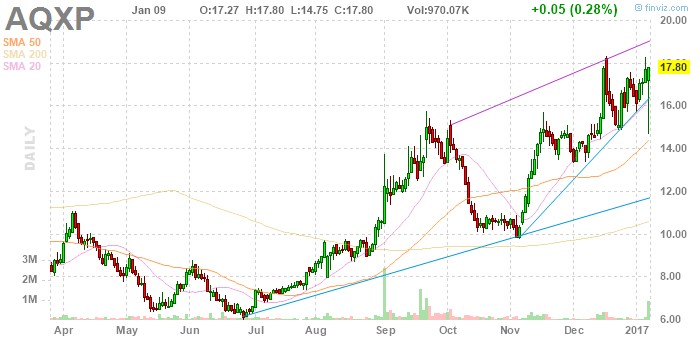 Winners & Losers
– EnteroMedics, Inc. (ETRM) Soars UP Another (92.60%) Due to Momentum and Previous Analyst Upgrade Following Therapy Implementation at Two Additional Institutes
– AMAG Pharmaceuticals, Inc. (AMAG) Falls DOWN (35.57%) After Company Stock is Downgraded by Multiple Analysts Following Exclusive Partnership Agreement Requiring AMAG to Pay About $500 Million in Fees Combined with Lowered Guidance for 2017
Most Talked About
Alibaba Group Holding, Ltd. (BABA) a Majority Strong Buy as Stock Ticks Up Following Executive Chairman's Promising Meeting with Donald Trump to Create 1m American Jobs
The TIP Sheets
– Monday, January 9th
– EnteroMedics, Inc. (ETRM) Continues to Rise UP (92.60%) After Momentum and Previous Analyst Upgrade Following Therapy Implementation at Two Additional Institutes. However, Analysts Have Downgraded the Position from $17.19 to $11.06. Once Momentum Falters, Expect Shares to Come Back DOWN
Unusual Volume
– ARIAD Pharmaceuticals, Inc. (ARIA) Soars UP (72.85%) on 142.5m Shares Traded After Company Strikes Deal with Takeda to Sell for $5.2 Billion. Look for Shares to Continue UP