The Capitalist Newsletter – January 12, 2017
TRUMP MEETS WITH PRESS FOR FIRST TIME SINCE ELECTION; HERE'S WHAT WE LEARNED
On Wednesday, President-Elect Donald Trump met with the press for the first time since his election victory. In a wild conference, Trump covered Russia, US intelligence agencies, the wall, big pharma, and fake news among other things. While the hour long conference was entertaining to say the least, it also provided a glimpse into Mr. Trump's plan for the next four to eight years. What can we expect from our 45th president?
Read The Capitalist's Take Here
---
SENATORS SLAM TRUMP'S PICK FOR ATTORNEY GENERAL; URGE TO VOTE AGAINST SESSIONS
Washington (CNN)New Jersey Sen. Cory Booker gave an impassioned and unprecedented plea to the Senate on Wednesday to vote against Donald Trump's nominee for attorney general and his fellow senator, Jeff Sessions. Booker, civil rights legend Georgia Rep. John Lewis and Congressional Black Caucus Chairman Rep. Cedric Richmond each delivered emotional testimony that Sessions' record on civil rights disqualifies him from serving atop the Justice Department under President-elect Trump.
---
SECRETARY OF STATE NOMINEE DECLINES TO PLEDGE U.S. RENEWAL OF RUSSIA SANCTIONS
Rex Tillerson faced an aggressive line of questioning Wednesday from senators about his possible conflicts involving ExxonMobil, his position regarding U.S. sanctions against Russia and his views on climate change. In testimony at his confirmation hearing before the Senate Foreign Relations Committee, Tillerson stressed that the Trump administration is focused on reasserting and renewing U.S. leadership around the world as a superpower, which is an approach that he said the Obama administration has withdrawn from…
---
Closing Bell
– Wednesday, January 11th
Financials Lead Markets Higher Despite Healthcare Slide
Big Insider Trades
– Splunk, Inc. (SPLK) Director Godfrey Sullivan Sells $6.75m
-Accelerate Diagnostics, Inc. (AXDX) Director Jack Schuker Buys $6.5m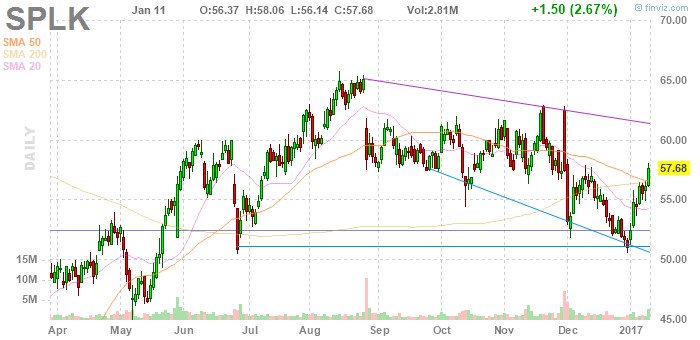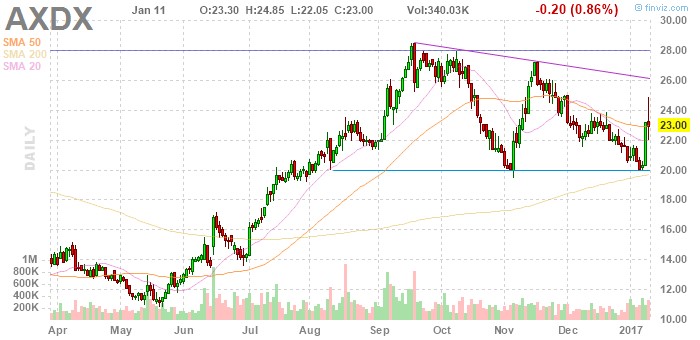 Winners & Losers
– MYOS RENS Technology, Inc. (MYOS) Skyrockets UP (424.62%) After Amending and Restating Bylaws Following Supreme Court Win
– EnteroMedics, Inc. (ETRM) Falls DOWN (44.77%) After Analysts Downgrade the Company Once Momentum Runs out on 1300% Climb
Most Talked About
MYOS RENS Technology, Inc. (MYOS) a Majority Strong Buy Following its Supreme Court Victory Preventing Insider Trading
The TIP Sheets
– Wednesday, January 11th
– MYOS RENS Technology, Inc. (MYOS) Skyrockets UP (424.62%) After Amending and Restating Bylaws Following Supreme Court Win. The Verdict Prevents Insider Selling of 1.5m Shares of Common Stock. When Combined with the Far Too Fast Rise of the Stock on Wednesday, Expect Shares to Fall Back DOWN
Unusual Volume
– Biocept, Inc. (BIOC) Soars UP (49.72%) on 63m Shares Traded After Picking up Insurance Coverage from BCBS for Its Lead Biopsy Product. Biocept's Commercial Application of This Technology Means Look for Shares to Continue UP