The Capitalist Newsletter – January 27, 2017
TRUMP THREATENS MEXICO WITH 20 PERCENT TARIFF; WHO REALLY PICKS UP THE BILL?
It would seem President Trump has a solution to his funding problem for the wall. Trump's answer, as it seems to be with any country who doesn't immediately agree with him, is to suggest a tariff. But that may not be such a good idea – especially with our neighbor to the south. Why should Trump hesitate to put a tariff on Mexican imports? And who really gets stuck paying for the wall if he does?
Read The Capitalist's Take Here
---
HULU STRIKES DEAL TO LIVE STREAM CBS NETWORK IN UPCOMING SERVICE
Johnson & Johnson, the world's largest health care company, has moved to bolster its roster of treatments for rare diseases, announcing a $30 billion deal on Thursday to acquire Actelion, a Swiss biotechnology firm. After months of stop-start negotiations — Johnson & Johnson walked away from discussions in mid-December, only for the companies to restart exclusive talks about a deal a few days later ..
Read More at Chicago Tribune Here
---
HOME SALES DROP SHARPLY IN DECEMBER AS SUPPLY TUMBLES TO 17 YEAR LOW
U.S. home resales fell more than expected in December as the supply of houses on the market dropped to levels last seen in 1999, but the housing market recovery remained intact against the backdrop of a tightening labor market. The National Association of Realtors said on Tuesday existing home sales decreased 2.8 percent to a seasonally adjusted annual rate of 5.49 million units. In addition to the lack of properties to purchase, rising home prices and mortgage rates also likely sidelined some buyers last month.
Read More at Wall Street Journal Here
---
Closing Bell
– Thursday, January 26th
Markets Close Flat as Dow Creeps Higher, Financials Rise, Healthcare Drops
Big Insider Trades
– PulteGroup, Inc. (PHM) Director Richard Dugas Sells $7m
– Arconic, Inc. (ARNC) Stakeholder Elliott International Buys $6.5m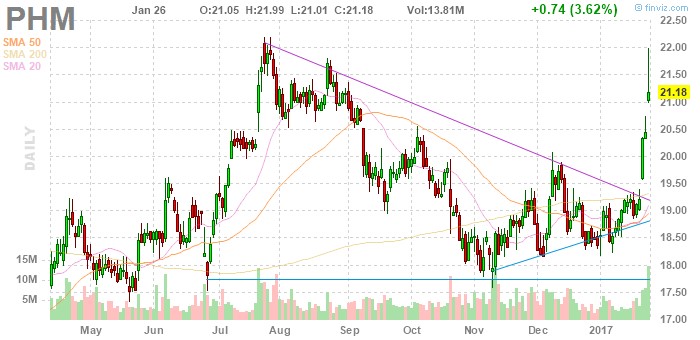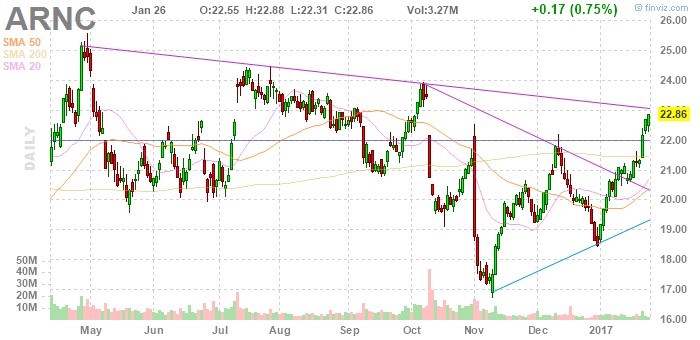 Winners & Losers
– Fuwei Films (Holdings) Co. Ltd. (FFHL) Soars UP (48.05%) After Company Announces Material Increase in Polyester Film for PCB from Major Customer
– Mattel, Inc. (MAT) Tanks DOWN (17.65%) After Grim Earnings, Revenue Letdown
Most Talked About
Moneygram International, Inc. (MGI) a Unanimous Strong Buy After Jack Ma's Ant Financial Agrees to Buy MGI for $880m
The TIP Sheets
– Thursday, January 26th
– eBay, Inc. (EBAY) Ticks UP (5.00%) After Strong Holiday Sales. As Retail Stores Sink and More Shoppers Look for Online Solutions, Expect Shares to Continue UP
Unusual Volume
– JetBlue Airways Corp. (JBLU) Slips DOWN (3.08%) on 20m Shares Traded After Longbeach Airport Rejects Proposal for JetBlue International Flights. JetBlue Finished 2016 in Strong Shape, Expect Shares to Bounce Back UP