The Capitalist Newsletter – January 5, 2017
SEARS IN TROUBLE AGAIN; DIGS INTO CEO'S POCKETS ONCE MORE AS TAB TOTALS $1 BILLION
Sears Holding Corp. CEO Edward Lampert again reached into his pockets to lend the struggling retailer another $500 million. Except this time, the money comes from affiliates of Lampert's hedge fund. With stores closing around the country and dwindling sales, was Lampert right to seek more money for Sears? Is time almost out for the fading industry titan?
Read The Capitalist's Take Here
---
HULU STRIKES DEAL TO LIVE STREAM CBS NETWORK IN UPCOMING SERVICE
Hulu, one of several companies vying to create a lower-cost alternative to cable bundles, will include CBS when its streaming television service is unveiled this year, the company announced on Wednesday. The addition of CBS and its related cable channels will bring to Hulu several of television's top-rated programs, including "The Big Bang Theory" and "N.C.I.S.," along with longtime favorites like "The Price Is Right" and major sporting events like N.F.L. games and the N.C.A.A. men's basketball tournament. Two of Hulu's biggest competitors, DirecTV Now and Sling TV, lack the CBS channels..
---
AT&T SET TO TEST 5G SPEEDS WITH STREAMING TELEVISION USING DIRECTV NOW PLATFORM
In a simultaneous test of wireless broadband and net neutrality, AT&T will test its upcoming 5G tech with DirecTV Now video streaming. Trial customers in Austin, Texas will be able to stream the services on a variety of devices over fixed 5G connections at several sites. The goal, the carrier said in a press release, is to see how "wireless millimeter wave technology handles heavy video traffic….
Read More at Wireless Week Here
---
Closing Bell
– Wednesday, January 4th
Markets Close Higher Despite FOMC Minutes Hinting at More Frequent Rate Hikes
Big Insider Trades
– Alphabet, Inc. (GOOG) President Sergey Brin Sells $26.5m
-Opko Health, Inc. (OPK) CEO Phillip Frost Buys $180k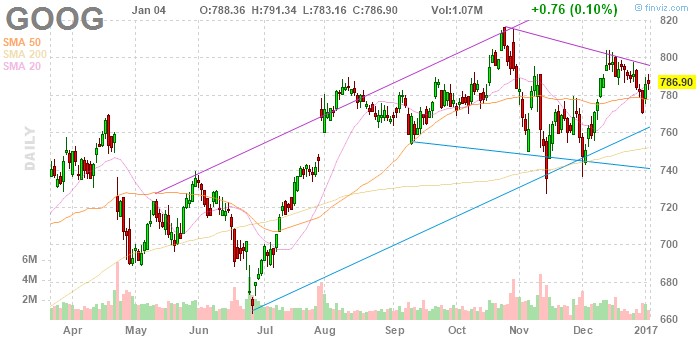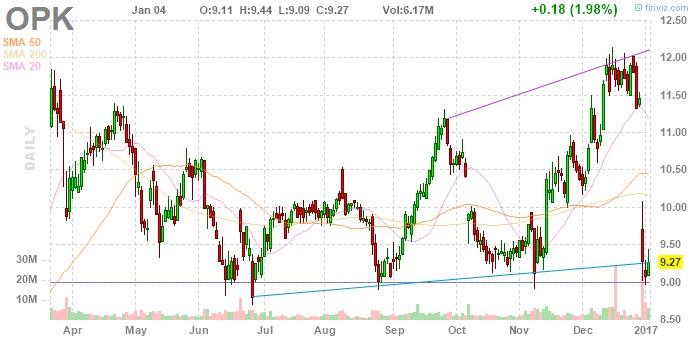 Winners & Losers
– Hilton Worldwide Holdings, Inc. (HLT) Soars UP (11.76%) After Two Spinoffs Go Live and Start Trading
– Agile Therapeutics, Inc. (AGRX) Tanks DOWN (47.40%) After Company Announces Twirla Birth Control Patch Showed Less Efficacy Than Standard Birth Control
Most Talked About
Macy's, Inc. (M) Considered a Majority Strong Sell After Dismal Holiday Sales
The TIP Sheets
– Wednesday, January 4th
– Shake Shack, Inc. (SHAK) Spikes UP (7.67%) After Joining an S&P Stock Index. Even (Especially) Though the Spike has Nothing to do with Burgers, Expect Shares to Continue UP
Unusual Volume
– Weight Watchers International, Inc. (WTW) Pops UP (20.94%) on 10.5m Shares Traded After Oprah Announces She Once Again Dropped 40 lbs. with the Weight Loss Program. With Oprah Behind it, Expect Shares to Continue UP