The Capitalist Newsletter – March 2, 2017
TRUMP STRIKES CONCILIATORY TONE IN SPEECH TO CONGRESS; DOW RESPONDS WITH HISTORIC DAY
After five weeks (and months of campaigning) filled with speeches about how bad things are in the U.S. and the dangers of refugees, immigrants, and ISIS, Donald Trump addressed a joint session of the Congress in the House chamber on Tuesday. Just about everyone expected more of the same, with Trump stirring controversy with every off the cuff remark. But President Trump changed things up and focused on the future of the country instead of the past. What can we take away from Trump's speech?
Read The Capitalist's Take Here
---
SNAP SETS SHARE PRICE AT $17 FOR IPO; VALUES COMPANY AT $24 BILLION
Snap Inc priced its initial public offering above its target range on Wednesday, raising $3.4 billion as investors set aside concerns about its lack of profits and voting rights for a piece of the hottest tech IPO in years. At $17 a share, the parent of popular disappearing-messaging app Snapchat has a market valuation of roughly $24 billion, more than double the size of rival Twitter and the richest valuation in a U.S. tech IPO since Facebook in 2012.
Read More at Yahoo Finance Here
---
GOOGLE JOINS THE CORD-CUTTING FIGHT AGAINST CABLE WITH "YOUTUBE TV"
Google just joined the "skinny bundle" TV war with YouTube TV, a paid subscription service that streams a slew of premium broadcast and cable networks to your mobile device, tablet, computer, and anything with Chromecast. Just $35 a month gets you six accounts and access to live TV from more than 40 providers including the big broadcast networks, ESPN, regional sports networks and dozens of popular cable networks. Subscriptions include cloud DVR with unlimited storage, AI-powered search and personalization, and access to YouTube Red programming…
---
Closing Bell
– Wednesday, March 1st
Markets Slip Down Ahead of Trump Address
Big Insider Trades
– The Charles Schwab Corp. (SCHW) EVP Bernard Clark Sells $2m
– Plains GP Holdings, L.P. (PAGP) CEO Greg Armstrong Buys $1.5m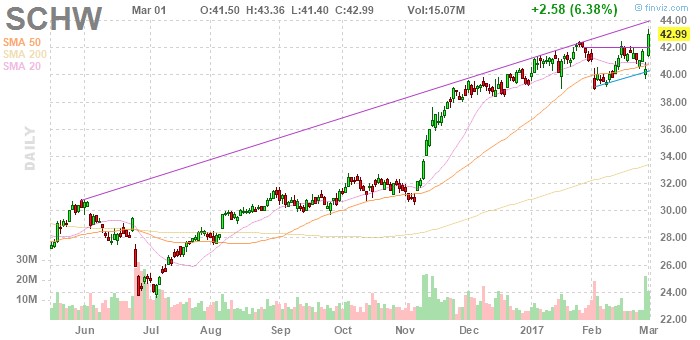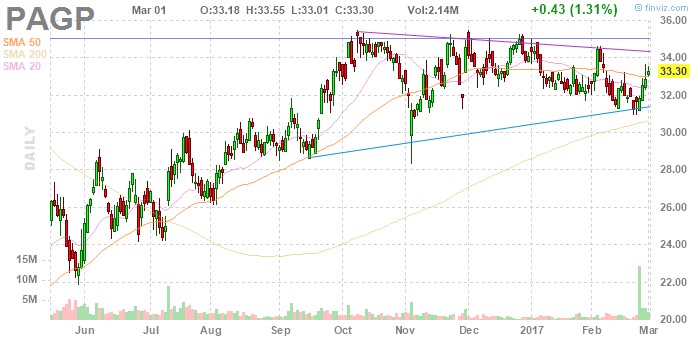 Winners & Losers
– Stone Energy Corp. (SGY) More Than Doubles UP (274.24%) After Completing Sale of Appalachia Properties
– Babcock & Wilcox Enterprises, Inc. (BW) Tumbles DOWN (37.39%) After Missing Q4 and Full-Year Earnings by Wide Margin
Most Talked About
Lowe's Companies, Inc. (LOW) Considered a Near-Unanimous Strong Buy After Sales and Earnings Beat and Increased Store Traffic
The TIP Sheets
– Wednesday, March 1st
– Etsy, Inc. (ETSY) Slips DOWN (11.80%) After Q4 Financials Report. While Sales for the Quarter Rose, Losses Widened Fivefold to $21.5 million. Expect Shares to Continue DOWN
Unusual Volume
– Lowe's Companies, Inc. (LOW) Jumps UP (9.52%) on 12.5m Shares Traded After Sales and Earnings Beat and Increased Store Traffic. Lowes Also Saw a Large Increase in Big-Ticket Items and a Narrower Gap with Home Depot. Expect Shares to Continue UP