The Capitalist Newsletter – March 3, 2017
SNAP LAUNCHES LARGEST IPO SINCE ALIBABA IN 2012; SEES SHARES SOAR – BUT WILL IT LAST?
By now, everyone is familiar with the social phenomenon that is Snapchat. Users can send videos and messages to each other which then self-destruct and erase. The app even notifies a user if someone takes a screenshot of their sent video or picture. On Thursday, Snapchat parent company Snap, Inc. launched its much anticipated IPO, pricing shares at $17, giving the company a market valuation of $24 billion. Shares soared from the opening bell. But given that Snap has never produced a profit, can the company's day one stock success last? How should traders respond?
Read The Capitalist's Take Here
---
SESSIONS TO RECUSE SELF FROM PROBE AFTER HE HAD TWO CONVERSATIONS WITH RUSSIAN AMBASSADOR DURING TRUMP'S CAMPAIGN
Attorney General Jeff Sessions said Thursday he will remove himself from involvement in any investigation related to the 2016 presidential campaign, following disclosures that he had conversations with Russian officials while advising Donald Trump's campaign.
Read More at Wall Street Journal Here
Read More at The Atlantic Here
---
U.S. AUTHORITIES RAID CATERPILLAR'S ILLINOIS FACILITIES
Federal law enforcement officials searched three facilities of heavy machinery manufacturer Caterpillar Inc on Thursday, prompting a sharp sell-off in the company's stock. A spokeswoman for the U.S. Attorney Office for the Central District of Illinois, Sharon Paul, confirmed that federal law enforcement officials conducted searches at locations in Peoria, East Peoria and Morton, Illinois, but did not say why federal agents raided the three locations…
---
Closing Bell
– Thursday, March 2nd
Markets Close Down as Profit-Taking Hits Financial Shares
Big Insider Trades
– On Assignment, Inc. (ASGN) Director Edwin Sheridan Sells $2.5m
– Carrizo Oil & Gas (CRZO) Director Steven Webster Buys $775k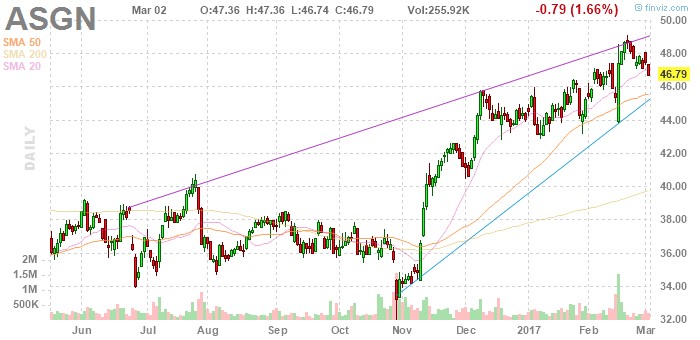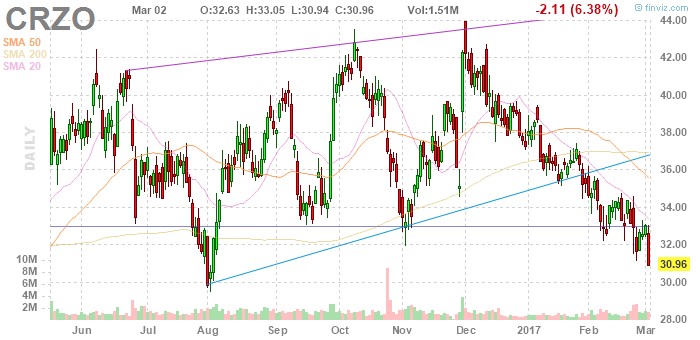 Winners & Losers
– Snap, Inc. (SNAP) Rockets UP (44.00%) Upon its Day One Launch Buzz
– Adeptus Health, Inc. (ADPT) Tumbles DOWN (57.40%) After Law Firm Launches Investigation on Behalf of Shareholders Following Company's Inability to Submit Financial Summary for 2016 by Deadline
Most Talked About
Anheuser-Busch Inbev (BUD) Split Down the Middle as CEO Loses Bonus as Earnings Trail Estimates
The TIP Sheets
– Thursday, March 2nd
– Aurinia Pharmaceuticals, Inc. (AUPH) Jumps UP (22.10%) After Successful 48 Week Phase 2B Trial Results End Up Even Better Than Expected. Expect Shares to Continue UP
Unusual Volume
Snap, Inc. (SNAP) Soars UP (44.00%) on 217m Shares Traded After Launching IPO. Momentum and Buzz Should Continue to Carry Shares Initially. Expect Shares to Continue UP