The Capitalist Newsletter – March 9, 2017
INTERNATIONAL WOMEN'S DAY SEES U.S. WOMEN LAUNCH "DAY WITHOUT A WOMAN" PROTESTS; HERE'S WHAT THE ECONOMIC COSTS LOOK LIKE
After more than a million women across the country turned out for marches protesting President Trump, a smaller crowd turned out to support International Women's Day. The organizers of the Women's March put together a new demonstration, called "Day Without a Woman", to show the strength of women and their importance in the workplace. What's the impact of that look like?
Read The Capitalist's Take Here
---
INVESTMENT FIRM INSTALLS "DEFIANT GIRL" STATUE OPPOSITE WALL STREET'S CHARGING BULL TO ADVANCE WOMEN IN THE WORKFORCE
On the eve of International Women's Day, State Street Global Advisors, the asset management business of State Street Corporation, called on over 3,500 companies with an aggregate market capitalization of $30 trillion, to increase the number of women on their corporate boards. In conjunction with this call to action, State Street placed a bronze statue of a determined young girl staring down the sculpture, Charging Bull – a long-standing symbol of Wall Street – in Bowling Green Park in Lower Manhattan…
Read More at Boston Globe Here
---
TIME SALES TALK MOVES FORWARD AS SUITORS LINE UP
In a signal that Time Inc.'s sales process is entering the final stages, the publisher's board on Tuesday decided to go forward with discussions with potential buyers and has called for final bids within two weeks, according to people familiar with the situation. The board could have ended the sales process on Tuesday if it felt that the preliminary offers it had received were inadequate.
---
Closing Bell
– Wednesday, March 8th
Markets Dip Down as Oil Plunges After Inventory Buildup
Big Insider Trades
– Microchip Technology, Inc. (MCHP) CEO Steve Sanghi Sells $4m
– Fiesta Restaurant Group, Inc. (FRGI) Director Brian Friedman Buys $7m Over 3 Days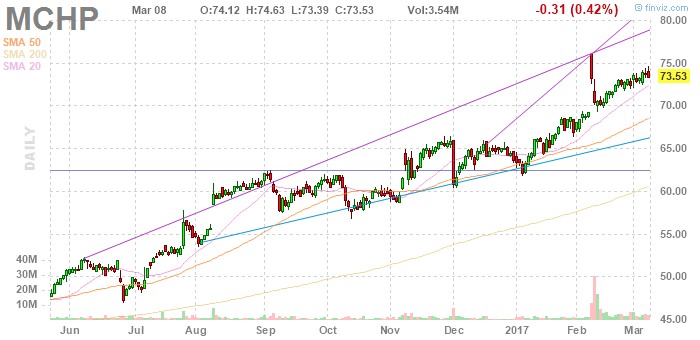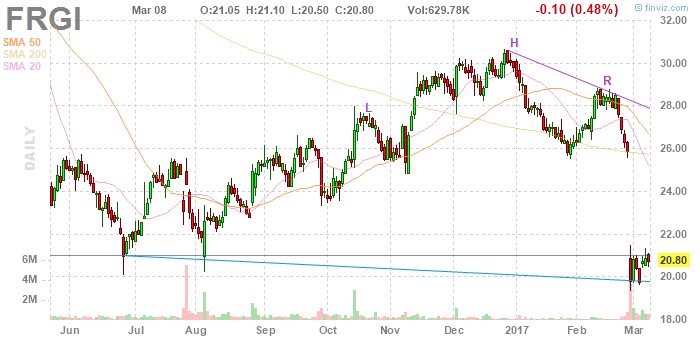 Winners & Losers
– Global Blood Therapeutics, Inc. (GBT) Jumps UP (21.02%) Upon News of Possible Acquisition
– Natera, Inc. (NTRA) Tumbles Down (17.93%) After Less Than Stellar Earnings Report
Most Talked About
Caterpillar, Inc. (CAT) Considered a Strong Sell After Tax Fraud Reports
The TIP Sheets
– Wednesday, March 8th
– Caterpillar, Inc. (CAT) Slips DOWN (2.81%) as Authorities Investigate Company for Tax, Accounting Fraud. Expect Shares to Continue DOWN
Unusual Volume
Ocera Therapeutics, Inc. (OCRX) Soars UP (84.87%) on 30m Shares Traded Upon Strong Clinical Trial Success. Expect Shares to Continue UP