The Capitalist Newsletter – May 10, 2017
PANDORA SECURES FUNDING, SIMULTANEOUSLY EXPLORES SALES; STOCK SET TO POP
Pandora has been on a bit of a rollercoaster lately. The stock has been all over the place, with shares currently down after the music streaming service barely missed revenue estimates by just $2 million. Last year, Pandora rejected a buyout offer from SiriusXM parent company Liberty Media Corp., but now Pandora looks like they're ready to make a deal — kind of…
Read The Capitalist's Take Here
---
APPLE BECOMES FIRST U.S. COMPANY TO EVER REACH $800 BILLION VALUE
Apple's market capitalization briefly crossed the $800 billion threshold for the first time on Monday, marking another major milestone for the world's most valuable company.
Following a positive analyst report, Apple's shares (AAPL, +0.64%) rose over 3% in midday trading to a record high of $153.70. At one point, the company's market value rose above $800 billion before retreating below that barrier.
Apple's shares closed up 2.7% for the day at $153.01, good for a market value of $797.8 billion.
Read More at Apple Insider Here
---
BITCOIN CONTINUES TO PICK UP STEAM; BLOWS PAST $1,700
Bitcoin seems unstoppable, topping $1,700 for the first time on Tuesday. The cryptocurrency is up 5.71% at $1,758.45 a coin, as trade grinds higher for the 16th time in 18 sessions. It has gained nearly 50% during its run. Tuesday's gain comes without any obvious catalyst as traders await the US Securities and Exchange Commission's ruling on whether it will reverse its decision to reject the Winklevoss twins' exchange-traded fund.
Read More at Business Insider Here
Read More at Wall Street Journal Here
---
Closing Bell
– Tuesday, May 9th
Markets See Mixed Close as Energy Dips
Big Insider Trades
– Netflix, Inc. (NFLX) Chief Product Officer Neil Hunt Sells $4m
– Kite Pharma, Inc. (KITE) CEO Arie Belldegrun Buys $1.1m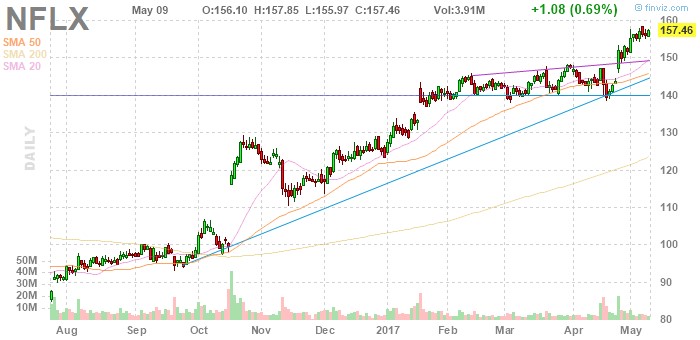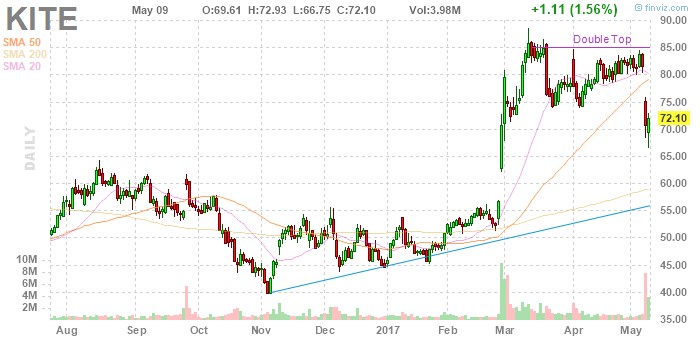 Winners & Losers
– Cleantech Solutions International, Inc. (CLNT) Soars UP (66.67%) on News the Company Will be Acquired by an Investment Holding Company
– SCYNEXIS, Inc. (SCYX) Tumbles DOWN (36.22%) as Shareholder Announcement Reminds Shareholders of Class Action Lawsuit Against Company
Most Talked About
Cleantech Solutions International, Inc. (CLNT) Considered a Majority Strong Buy After News the Company Will be Acquired by an Investment Holding Company
The TIP Sheets
– Tuesday, May 9th
– GHertz Global Holdings, Inc. (HTZ) Tumbles DOWN (14.15%) to Seven Year Low as Demand for Sedan and Economy Rentals, Which Makes Up Most of the Company's Fleet, Dips. However, the Company is Working to Sell Off its Glut of Sedans and Replace Them with Luxury SUV Rentals. Expect Shares to Bounce Back UP
Unusual Volume
Valeant Pharmaceuticals International, Inc. (VRX) Shoots UP (24.10%) on 125m Shares Traded After Company Raises Full Year Guidance Following Positive Q1 Earnings Results. However, the Company Actually Saw an 11% Decline in Year-Over-Year Revenue, and Valeant's Long Term Problems Remain Unchanged. Expect Shares to Fall Back DOWN