The Capitalist Newsletter – May 2, 2017
INTRODUCING GUY COHEN; YOUR NEW TECHNICAL ADVISOR — COURTESY OF THE CAPITALIST
You asked. We answered. Stocks can be a confusing world. To properly navigate the markets, you have to know two important things: – Current events influencing the markets – Technical analysis to predict (and understand) chart movements Now, you've got both. Guy Cohen is a world renowned financial author, investor, and trading innovator. He'll be contributing to The Capitalist regularly, and created a video for us going over a bit of chart analysis and introducing himself. Sit back, listen, and learn, as Guy educates you on markets and trading charts, free to Capitalist readers. Meet Guy Here
---
FOX NEWS CO-PRESIDENT RESIGNS AMID NETWORK TURMOIL
Fox News co-president Bill Shine is out at the network, the latest casualty in the scandal that has plagued Fox News and its parent company 21st Century Fox since last summer. Shine's departure was announced Monday. The network said he resigned. "This is a significant day for all at Fox News," Rupert Murdoch, the executive chairman of 21st Century Fox, said in a statement announcing Shine's resignation. "Bill has played a huge role in building Fox News to its present position as the nation's biggest and most important cable channel in the history of the industry. His contribution to our channel and our country will resonate for many years." Shine, who had been with Fox since its inception in 1996, was a right-hand man to former Fox News chief Roger Ailes.
Read More at Huffington Post Here
---
AIRBNB SETTLES LAWSUIT WITH SAN FRANCISCO OVER SHORT-TERM RENTAL LAW
Airbnb Inc and the city of San Francisco have settled a year-long lawsuit over a local ordinance forbidding the home-rental company from taking bookings from hosts who have not properly registered their homes.
The settlement, which Airbnb announced during a call with reporters on Monday, marks the latest effort by the company to compromise with cities and improve its relationship with regulators globally as it eyes an initial public offering. Airbnb is an online marketplace for short-term lodging, with "hosts" who rent their homes in 65,000 cities.
City officials across the globe have …
Read More at Business Insider Here
---
Closing Bell
– Monday, May 1st
Markets See Mixed Close as Tech Leads Nasdaq Ever Higher
Big Insider Trades
– Alphabet, Inc. (GOOG) Senior VP Diane Greene Sells $1.6m
– Biogen, Inc. (BIIB) Director Alexander Denner Buys $20m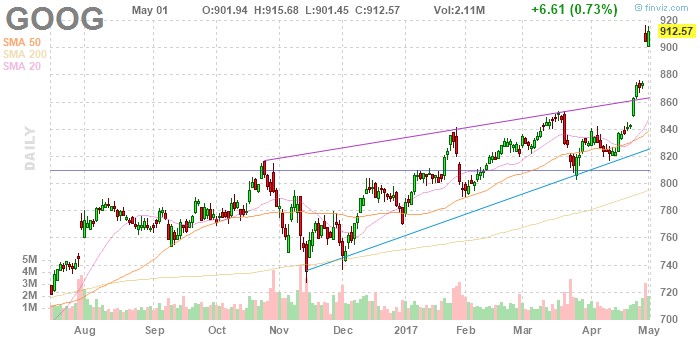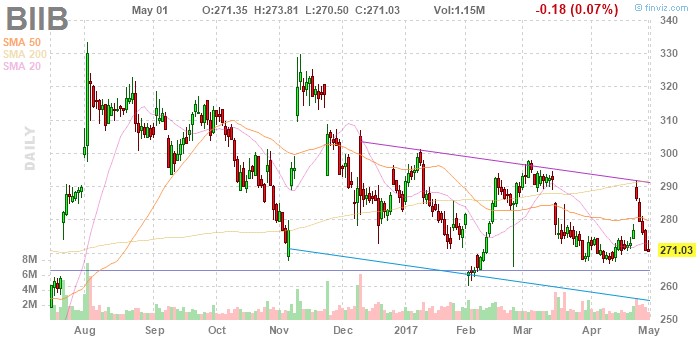 Winners & Losers
– MEDICAL TRANSCRIPTION BILLING, Corp. (MTBC) Rockets UP (76.47%) After Announcing it Successfully Developed Health Information Exchange Interfaces for Interoperability Between its Platforms and Leading Hospitals
– Aeterna Zentaris, Inc. (AEZS) Tumbles DOWN (59.70%) After Announcing Phase 3 Clinical Study Did Not Achieve its Primary Endpoint
Most Talked About
Intra-Cellular Therapies, Inc. (ITCI) Considered a Majority Strong Buy After Falling DOWN (24.10%) Following News that the FDA Confirmed the Results of a Study of Company's Schizophrenia Drug Don't Prevent ITCI from Filing New Drug Application, but FDA Raised Questions About Toxicology Studies of the Drug
The TIP Sheets
– Monday, May 1st
– MEDICAL TRANSCRIPTION BILLING, Corp. (MTBC) Rockets UP (76.47%) After Announcing it Successfully Developed Health Information Exchange Interfaces for Interoperability Between its Platforms and Leading Hospitals. Expect Shares to Continue UP
Unusual Volume
Ocwen Financial Corp (OCN) Rises UP (35.37%) on 36m Shares Traded After Company Unloads $425m in Assets. However, the Company is Still Being Sued by the State of Massachusetts (and Others) for Shady Lending and Mortgage Practices. Expect Shares to Come Back DOWN