The Capitalist Newsletter – November 10, 2016
MARKETS SURGE FOLLOWING TRUMP'S ELECTION; HERE'S WHAT THEY'RE THINKING
It was supposed to be chaos if Donald Trump was elected president. Hillary Clinton was the most market friendly candidate. She was a known factor. While The Donald was seen as unpredictable. Analysts predicted the S&P 500 would drop 50 percent with a Trump victory, yet markets rose UP on Tuesday. How was everyone so wrong? And what can we expect moving forward?
Read The Capitalist's Take Here
---
CALIFORNIA APPROVES TOBACCO TAX; TOBACCO STOCKS LOWER AS A RESULT
California voters on Tuesday approved significant tax increases on cigarettes and vaping devices, but similar measures fell short in Colorado, North Dakota and Missouri. California's Proposition 56 will increase taxes on a pack of cigarettes from 87 cents to $2.87, bringing it more in line with other states. The measure also sets a tax on electronic cigarettes.
Read More at Business Insider Here
Read More at Pacific Standard Here
---
GOOGLE ENACTS HARSHER PENALTIES ON SITES SPREADING MALWARE
Google has been protecting users against dangerous and harmful websites for many years by warning web surfers when they accidentally click on links that could lead them to sites that spread malware or attempt to phish for your private information. But many sites figured out how to work around Google's policies. Instead of cleaning up their act, they would instead temporarily make adjustments so their site would appear to be compliant when Google verified it, then return to harming users once Google's warnings were removed. Now, Google says it's putting a stop to this behavior by classifying these sites as "repeat offenders" and enforcing stricter penalties..
---
Closing Bell
– Wednesday, November 9th
Markets Close Higher Boosted by Industrial and Drugmaker Stocks Following Trump's Win
Big Insider Trades
– ServiceMaster Global Holdings, Inc. (SERV) CEO Robert Gillette Sells $7m
– CenturyLink, Inc. (CTL) Director William Owens Buys $1m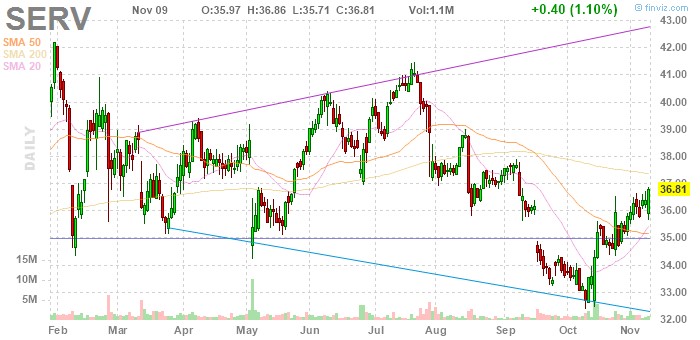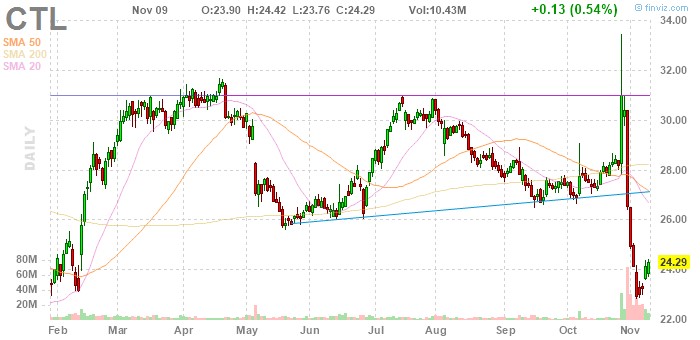 Winners & Losers
– Corrections Corporation of America (CXW), a For-Profit Prison Company, Shoots UP (43.13%) After Trump's Win, with Investors Relieved Clinton Can Not Follow Through on Her Promise to Phase Out Private Prisons
– Arrowhead Pharmaceuticals, Inc. (ARWR) Falls DOWN (31.26%) After FDA Places Clinical Hold on the Company's Hepatitis B Treatment
Most Talked About
GEO Group Inc. (GEO) a Consensus Strong Buy Among Traders Who Believe Trump Helps For-Profit Prison Companies
The TIP Sheets
– Wednesday, November 9th
– Community Health Systems, Inc. (CYM) Plummets DOWN (21.55%) Following Donald Trump's Victory. Hospitals are Expected to Suffer Once Trump Takes Office and Repeals the Affordable Care Act. Expect Shares to Continue DOWN
Unusual Volume
– Pfizer Inc. (PFE) Jumps UP (7.07%) on 119m Shares Traded After Trump's Win Removes Threat of Clinton Implementing Pharma Price Controls. Look For Shares to Continue UP