The Capitalist Newsletter – November 15, 2016
SAMSUNG TO ACQUIRE CAR TECH COMPANY HARMAN INTERNATIONAL; BUYS WAY INTO AUTO INDUSTRY WITH $8 BILLION
On Monday, South Korean smartphone maker Samsung announced its entrance into a new field; the automotive industry. Samsung is all set to purchase Harman International Industries, Inc. in an all cash $8 billion deal. Samsung is paying quite a premium here and has no track record in the auto industry, but is the risk worth the reward?
Read The Capitalist's Take Here
---
FED STANDS PAT, MOVES CLOSER TO RATE HIKE
American Apparel LLC is headed to the bankruptcy auction block next month with a deal that means a new home for its brands and hope for its Los Angeles-based manufacturing and distribution operations, but a big question mark for the fate of the retailer's 110 stores. A beleaguered manufacturer and retailer of young adult fashion, American Apparel returned to bankruptcy Monday after months of scrambling for money and a buyer, less than a year after an earlier court-approved chapter 11 turnaround ran off the rails, according to court papers.
Read More at Wall Street Journal Here
---
ESTEE LAUDER TO GO AFTER MILLENNIALS; ACQUIRES MAKEUP BRAND TOO FACED FOR $1.45 BILLION
Estee Lauder Cos., making the biggest acquisition in its history, agreed to buy cosmetics company Too Faced for about $1.45 billion, scooping up a makeup brand that's popular with millennials. Too Faced, which is expected to top $270 million in net sales this year, will help Estee Lauder expand in e-commerce and specialty stores, according to a statement Monday. The purchase is expected to be completed next month.
---
Closing Bell
– Monday, November 14th
Financials Lead the Way as Dow Finishes Up but S&P and Nasdaq Slip
Big Insider Trades
– Sterling Bancorp. (STL) Director James Deutsch Sells Another $2.25 m
– Spark Energy, Inc. (SPKE) Execs Buy $1m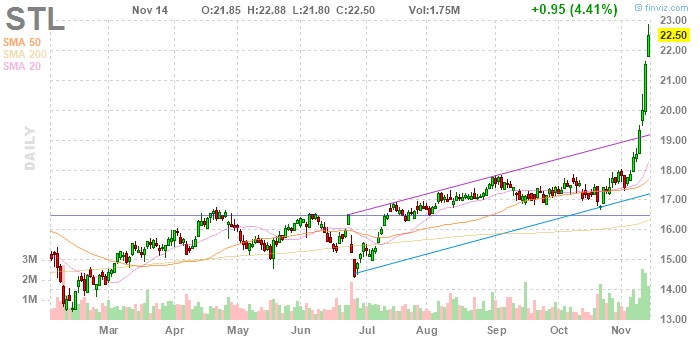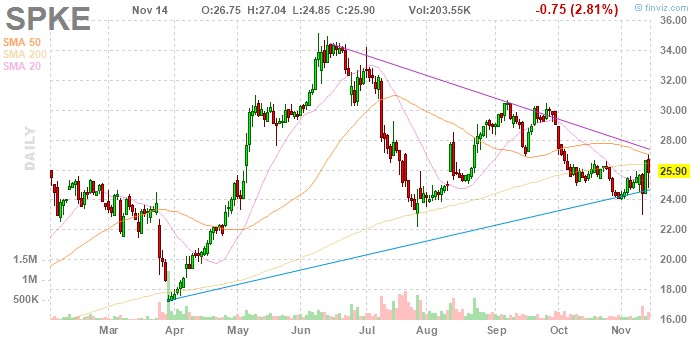 Winners & Losers
– DryShips, Inc. (DRYS) Continues to SKYROCKET UP (215.15%) Following Financial Restructuring of its Bank Credit Facilities
– Dynavax Technologies Corp. (DVAX) Plummets DOWN (64.66%) After FDA Rejects Company's Hepatitis B Vaccine
The TIP Sheets
– Monday, November 14th
– Harman International Industries, Inc. (HAR) Shoots UP 25.18% After Announcing the Company is Being Purchased by South Korean Smartphone Maker Samsung for $8 Billion. Expect Shares to Continue UP
Unusual Volume
– Mentor Graphics Corp. (MENT) Jumps UP (18.29%) on 36m Shares Traded After Siemens Announces Acquisition of Mentor for $4.5 Billion to Boost Software Business. Expect Shares to Continue UP