The Capitalist Newsletter – November 16, 2016
BUFFETT CHANGES DECADES-OLD STANCE; PICKS UP SHARES OF TOP FOUR MAJOR U.S. AIRLINES
Warren Buffett has a reputation as the world's most savvy investor. With a net worth north of $70 billion, that reputation is well earned. And for more than twenty years, the world's most savvy investor has notoriously stayed away from investing in airlines. So it's a little surprising when Warren Buffett suddenly changes a decades-long stance and purchases shares in all four major U.S. airlines. What changed? Should investors follow his lead?
Read The Capitalist's Take Here
---
SNAPCHAT CONFIDENTIALLY FILES FOR IPO
Snapchat appears to be moving forward in its plans to go public early next year with the company filing confidentially for its IPO, according to a report from Reuters. In recent years, companies have begun filing confidentially for their initial public offerings well ahead of revealing their financial guts in the formal IPO process. That gives a time window between the SEC getting the documents and them becoming available for public scrutiny, both from industry watchers and potential investors.
Read More at Wall Street Journal Here
---
AMAZON CRACKS DOWN ON KNOCKOFFS; SUES MERCHANTS SELLING FAKE ITEMS
The e-commerce giant is cracking down on fakes. For the first time in Amazon's 20-plus year history, Amazon is suing merchants that are selling counterfeit items on its marketplace. The Seattle-based company filed two lawsuits in the state of Washington Monday.
Read More at Wall Street Journal Here
---
Closing Bell
– Tuesday, November 15th
Tech Leads the Action as Markets Close Up on the Day
Big Insider Trades
– EverBank Financial Corp. (EVER) EVP John Surface Sells $6m
– PJT Partners, Inc. (PJT) CEO Paul Taubman Buys $1m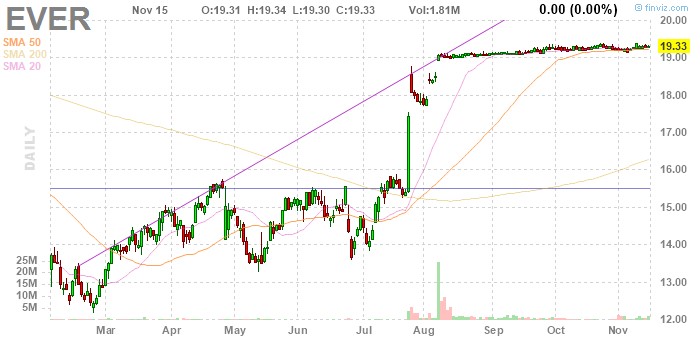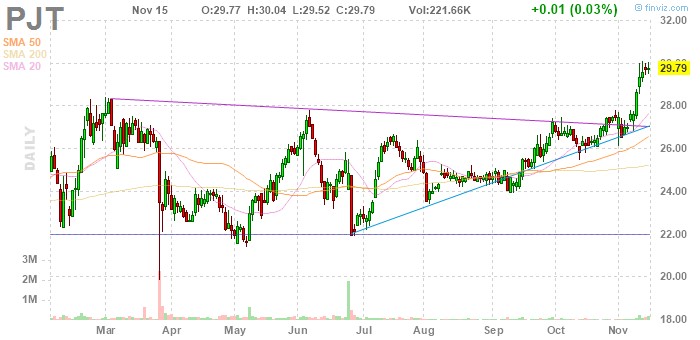 Winners & Losers
– Euroseas Ltd. (ESEA) Soars UP (99.12%) After Strong Q3 Results
– Amplify Snack Brands, Inc. (BETR), Maker of SkinnyPop Snacks, DOWN (24.35%) After Posting Dismal Q3 Results
Most Talked About
Ocean Power Technologies, Inc. (OPTT) a Popular Buy After a Wild Day Where Shares Rose 61 percent.
The TIP Sheets
– Tuesday, November 15th
– Many Greek Shipping Companies Shot UP on the Day. Diana Containerships, Inc. (DCIX) Went UP (154.77%) as Euroseas, Ltd. (ESEA) 99.12%, Seanergy Maritime (SHIP) 74.55%, and Several Others Followed Suit. The Service Sector Looks to be Thriving With the Holidays Right Around the Corner. Expect Shares of Greek Shipping Companies to Continue UP
Unusual Volume
– Dick's Sporting Goods, Inc. (DKS) Plunges DOWN (6.86%) on 10m Shares Traded as a Result of Weak Guidance. However, the Company Should Benefit From Rivals' Woes. Expect Shares to Bounce Back UP