The Capitalist Newsletter – November 18, 2016
WHY STEVEN MNUCHIN SHOULD BE DONALD TRUMP'S NEXT SECRETARY OF TREASURY
With a new president comes a changing of the guard. Donald Trump has already announced most of his cabinet, but one glaring omission has been Secretary of Treasury. While the top choice for Trump was JP Morgan Chase CEO Jamie Dimon, who turned down the role, the next name on the list, Steve Mnuchin, is a great fit. Why is Mnuchin such a solid choice? And what can we expect from him as Secretary?
Read The Capitalist's Take Here
Read More at Business Insider Here
Read More at Fox Business Here
---
JPMORGAN CHASE PAYS $264 MILLION FINE; AVOIDS CRIMINAL CHARGES
Regulators slapped JPMorgan with $264 million in fines and said the bank "corruptly influenced government officials" with its hiring and internship tactics in China. The settlement follows a three-year investigation into JPMorgan and marks one of the first major crackdowns on a big U.S. bank for running afoul of the Foreign Corrupt Practices Act. Known as the FCPA, the law prohibits companies from making payments or giving "anything of value" to win business from foreign officials..
---
SHAREHOLDERS APPROVE TESLA/SOLARCITY MERGER
In a deal that brings electric cars together with solar power, Tesla Motors shareholders voted Thursday to approve a deal to acquire SolarCity. The acquisition makes SolarCity, which is the nation's largest manufacturer and installer of solar panels, a wholly owned subsidiary of Tesla. More than 85% of shares voted were cast in favor of the acquisition.
---
Closing Bell
– Thursday, November 17th
Led by Tech, Markets Close Higher After Yellen Testimony
Big Insider Trades
– Starbucks Corp. (SBUX) Director Javier Teruel Sells $1.75m
– Baker Hughes, Inc. (BHI) Director Gregory Brenneman Buys $5m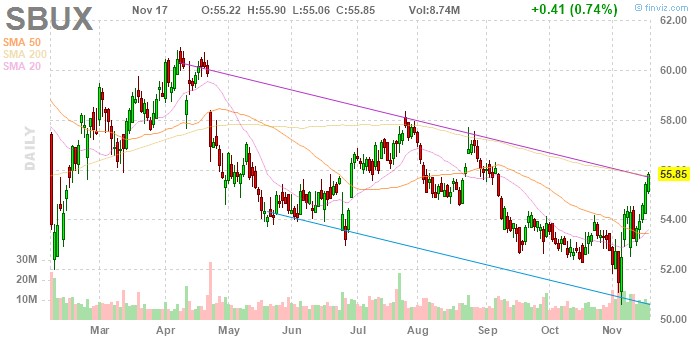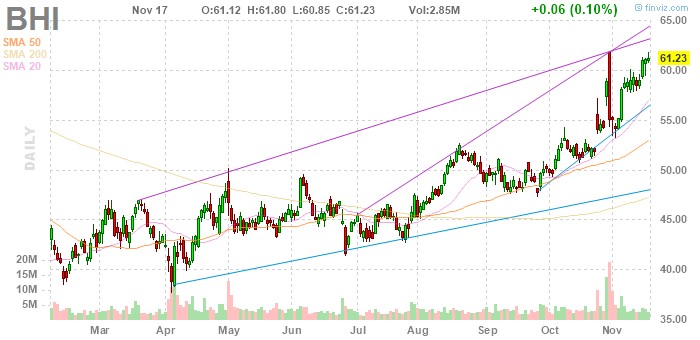 Winners & Losers
– Western Refining, Inc. (WNR) Shoots UP (23.11%) After Announcing Sale of Company to Tesoro for $4.1 Billion
– DryShips, Inc. (DRYS) Plummets DOWN (90.43%) After Momentum Finally Runs Out
Most Talked About
Bonso Electronics International, Inc. (BNSO) a Hot Topic and Strong Buy After Setting 52-Week High
The TIP Sheets
– Thursday, November 17th
– Valeant Pharmaceuticals International, Inc. (VRX) Ticks UP (0.67%) After Two Former Execs are Charged in Fraud and Kickback Scheme. The Company is Now in the Clear, and Shares Should Spike UP
Unusual Volume
– Best Buy Co., Inc. (BBY) Jumps UP (13.70%) on 25m Shares Traded After Setting Record High Share Prices and Receiving a Big Boost From Online Sales. With the Holidays Right Around the Corner, Look For Shares to Continue UP