The Capitalist Newsletter – November 23, 2016
AMAZON STREAMING LIVE SPORTS WOULD ELEVATE THE COMPANY TO NEW LEVELS
Amazon is the world's largest online retailer. But Amazon competes on low prices, meaning the company's profit margins are slim, leading to surprisingly small profits in relation to other tech giants. Amazon has come up with creative solutions such as cloud hosting through AWS and subscription revenue in the form of Amazon Prime. And while Prime has been great for customers, it's about to get even better for sports fans with Amazon in talks to stream live sports.. Why would Amazon streaming live sports make such a big difference for the company?
Read The Capitalist's Take Here
---
TRUMP RETREATS OFF THREATS; NOW SAYS NOT TO PROSECUTE CLINTON
President-elect Donald J. Trump repeatedly called Hillary Clinton "Crooked Hillary," and many of his fans chanted over and over again at his campaign rallies: "Lock her up!" But on Tuesday, Mr. Trump essentially said never mind, signaling that he has no intention of directing investigations into his former rival's use of a private email server or the financial operations at the Clinton family's global foundation.
Read More at New York Times Here
---
STARBUCKS QUIETLY RAISES PRICES ON COLD DRINKS
A Starbucks spokeswoman confirmed on Monday that the company raised some of its prices in the 48 hours following the U.S. presidential election results. Speaking to finance publication The Street, a spokesperson for the company reported a price increase of between 10 and 30 cents on selected cold brews, cold drinks, and baked goods, effective Nov. 10 at most stores.
---
Closing Bell
– Tuesday, November 22nd
Dow Closes Above 19000 For the First Time as Markets Close Higher Led by Telecoms
Big Insider Trades
– Snap-on, Inc. (SNA) President Nicholas Finchuk Sells $3.5m
– Flexion Therapeutics, Inc. (FLXN) Director Samuel Colella Buys $600k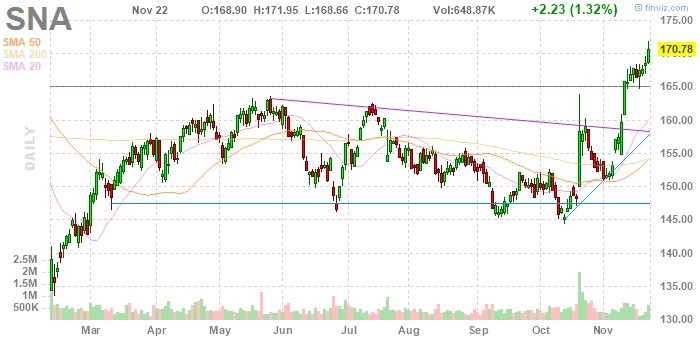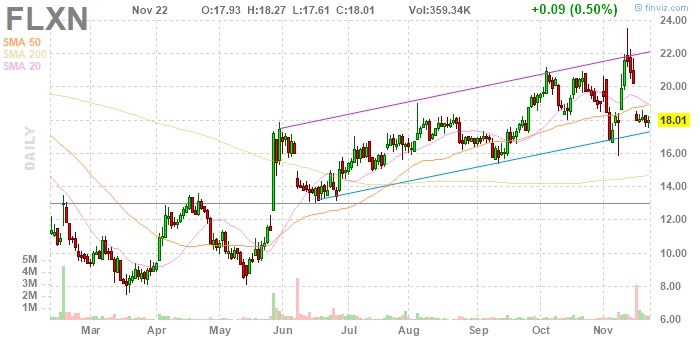 Winners & Losers
– Burlington Stores, Inc. (BURL) Jumps UP (15.99%) After Another Strong Earnings Report
– DryShips, Inc. (DRYS) Continues to Spring a Leak and Falls DOWN Another (31.65%) After Secondary Offering Fails
Most Talked About
Skyline Medical, Inc. (SKLN) a Consensus Strong Buy After Receiving Approval in Canada to Market New System
The TIP Sheets
– Tuesday, November 22nd
– Dollar Tree, Inc. (DLTR) Spikes UP (8.16%) After Finally Posting Strong Earnings Thanks to Acquistion of Family Dollar in 2015. Expect Shares to Continue UP
Unusual Volume
– Medtronic plc (MDT), One of the Largest Developers and Manufacturers of Medical Devices Worldwide, Falls DOWN (8.66%) on 31m Shares Traded After Announcing Disappointing Sales and Lowering Forecast. Look For Shares to Continue DOWN