The Capitalist Newsletter – November 24, 2016
TRUMP PROMISES U.S. WILL WITHDRAW FROM TPP DEAL ON FIRST DAY IN OFFICE
The Trans-Pacific Partnership (TPP) trade deal was a major step forward for Barack Obama's administration in offsetting China's rising global economic and diplomatic influence. As with many Obama milestones, Donald Trump has sworn to repeal the current president's actions. However, unlike the Affordable Care Act, Trump has now reaffirmed his commitment to withdrawing the U.S. from the pending TPP deal. What exactly is the TPP? And what are the pros and cons of exiting the agreement?
Read The Capitalist's Take Here
---
PRESIDIO LAUNCHING IPO; OFFERING COULD RAISE $3 BILLION
Presidio, a provider of information technology infrastructure services, filed plans for an initial public offering that could raise up to $400 million. In its S1 filing, Presidio said it looks to raise $100 million, but that is likely a placeholder for an IPO that could raise $400 million, estimates Renaissance Capital. The number of shares to be offered and the price range for the proposed offering have not yet been determined. By comparison, Acacia Communications (ACIA) and Twilio (TWLO), raised about $100 million and $150 million with their IPOs this year, but Japan messaging firm Line (LN) raised about $1 billion
Read More at Investor's Business Daily Here
Read More at Wall Street Journal Here
---
U.S. OIL RIG COUNT RISES FOR FOURTH STRAIGHT WEEK
The number of rigs drilling for oil in the U.S. rose by three in the past week to 474, according to oil-field services company Baker Hughes Inc. The U.S. oil-rig count is typically viewed as a proxy for activity in the sector. After peaking at 1,609 in October 2014, low oil prices put downward pressure on production and the rig count fell sharply. The oil-rig count generally has been rising since the beginning of summer.
Read More at Wall Street Journal Here
Read More at Business Insider Here
---
Closing Bell
– Wednesday, November 23rd
Dow, S&P Notch Third Straight Record Close Led by Industrials as Nasdaq Slips on Biotech
Big Insider Trades
– Netflix, Inc. (NFLX) CEO Reed Hastings Sells $8.8m
– Post Holdings, Inc.(POST) Director William Stiritz Buys $9m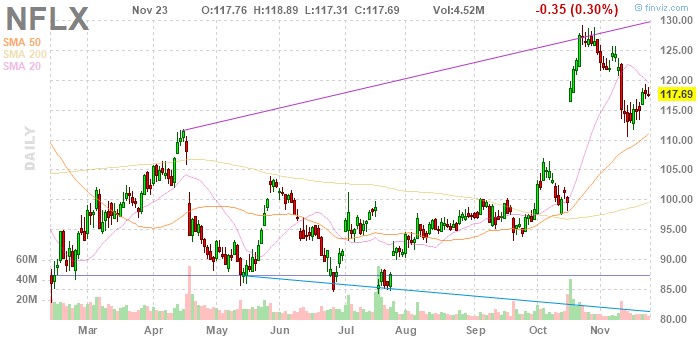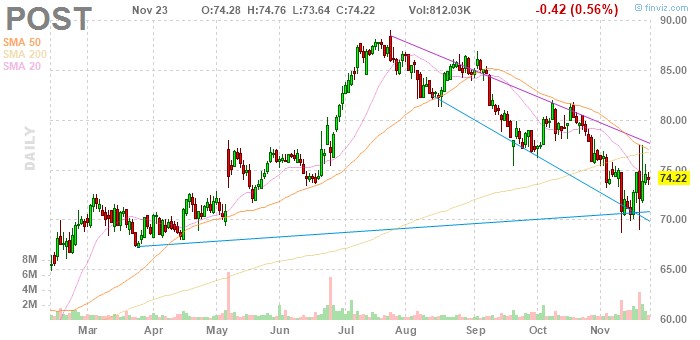 Winners & Losers
– Caleres, Inc. (CAL) Shoots UP (14.20%) After Announcing Strong Q3 Earnings and Analyst Upgrade
– Juno Therapeutics, Inc. (JUNO) Plunges DOWN (24.50%) After Two More Patients Die During Drug Trial
Most Talked About
Juno Therapeutics, Inc. (JUNO) a Majority Strong Sell and Hot Topic After Two Patients Died During Drug Trials
The TIP Sheets
– Wednesday, November 23rd
– Juno Therapeutics, Inc. (JUNO) Plunges DOWN (24.50%) After Two More Patients Die Mid-Way Through Drug Trial. Trials Put on Hold. This is Following 3 Patient Deaths Earlier This Year. The Company is Going to Face Some Heat in the Near Future. Expect Shares to Continue DOWN
Unusual Volume
– Eli Lilly and Co. (LLY) Falls DOWN (10.51%) on 54m Shares Traded After Horrendous Alzheimer's Drug Failure. Look For Shares to Continue DOWN