The Capitalist Newsletter – November 28, 2016
STRIPE RAISES $150 MILLION ROUND; COMPANY VALUED AT $9.2 BILLION
Stripe, Inc. is already the most valuable fintech startup in the world. And it just got richer. The payment processing company was valued at $5 billion just a year and a half ago. Now, Stripe has raised another $150 million round – at a $9.2 billion valuation. Why the massive (almost double) increase in value? Is Stripe really worth the cost?
Read The Capitalist's Take Here
---
CUBAN DISSIDENTS CALL OFF WEEKLY MARCH AS FIDEL CASTRO DIES AT 90
Cuba's most prominent dissident group has called off its traditional protest for the first time in 13 years following the death of the country's revolutionary leader Fidel Castro. The Ladies in White say the decision is to avoid tensions. The group, formed by wives of jailed dissidents, has long defied a protest ban in Cuba with a weekly march. Castro died on Friday at the age of 90. Flags are flying at half mast as the country observes nine days of mourning.
Read More at The Washington Post Here:
---
TRUMP TWEETS OFF A STORM AS HILLARY CLINTON PARTICIPATES IN ELECTION RECOUNT "SCAM"
President-elect Donald Trump went on a tweetstorm Sunday morning, quoting Hillary Clinton's debate promise to accept the election results a day after her campaign agreed to support efforts to recount votes in Wisconsin, an effort his transition team labeled a "scam.".
Read More at Huffington Post Here
---
Closing Bell
– Friday, November 25th
Markets Close at New Record Highs as Rally Continues
Big Insider Trades
– MAXIMUS, Inc. (MMS) CEO Richard Montoni Sells $500k
– Bank of America Corp. (BAC) Director Michael White Buys $500k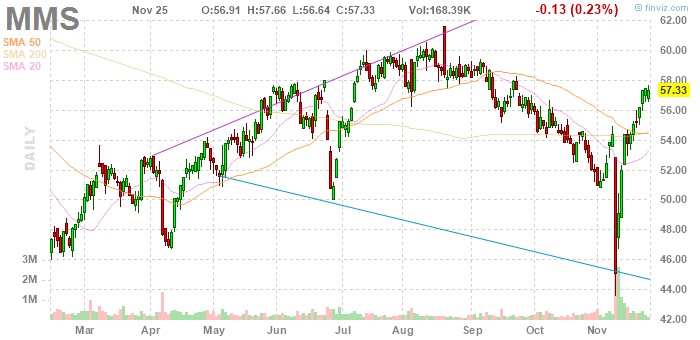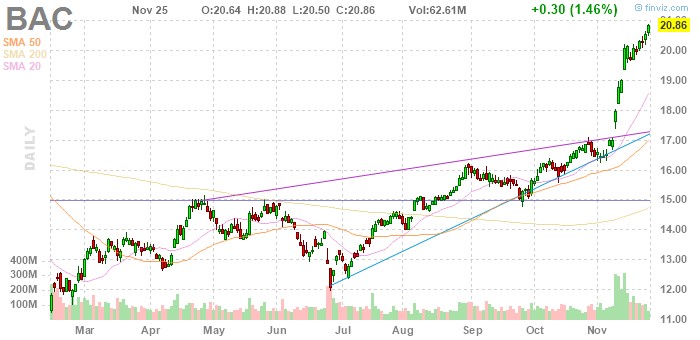 Winners & Losers
– Skyline Medical, Inc. (SKLN) Jumps UP (18.77%) After Company's Streamway System is Approved for Canadian Market
– DryShips, Inc. (DRYS) Continues its Fall DOWN (8.82%) After Dilution Pushes Stock Down Further
Most Talked About
Johnson & Johnson (JNJ) a Strong Buy After Company Approaches Actelion About Takeover Deal
The TIP Sheets
– Friday, November 25th
– Ctrip.com International Ltd. (CTRP), China's Biggest Travel Site, Spikes UP 9.81% After Acquiring Flight Search Company Skyscanner for $1.74 Billion. Expect Shares to Continue UP
Unusual Volume
– Cliffs Natural Resources, Inc. (CLF) Shoots UP (7.72%) on 21.5m Shares Traded After Another Strong Session as Company Picks up Momentum Heading into Trump Presidency. With the President-Elect Promising Infrastructure Spending, Look For Shares to Continue UP