The Capitalist Newsletter – November 29, 2016
TRUMP WANTS TO UNDO OBAMA'S EFFORTS; THREATENS TO TERMINATE U.S.-CUBA RELATIONS
After 50 years of power and another decade pulling strings in Cuba, Fidel Castro is finally dead. His younger brother Raul Castro, who has been in power since Fidel handed him control in 2008, has made some incremental progress as President. Now, with Fidel out of the picture, President-Elect Donald Trump is demanding the younger Castro make immediate changes or else. Would Trump really shut the door on relations with Cuba? Does the U.S. economy actually benefit from that relationship?
Read The Capitalist's Take Here
---
U.S. AIRLINES BEGIN FLYING TO CUBA FOR THE FIRST TIME IN 5 DECADES
U.S. airlines are proceeding with plans to launch new flights to Cuba this week despite doubts that President-elect Donald Trump has raised about the future of ties between the countries. American Airlines Group Inc, the world's largest airline, kicked off its first flight to Havana from Miami on Monday and intends to launch Charlotte-Havana service on Wednesday. Its rival for Caribbean travel, JetBlue Airways Corp, has three new flights to Havana starting this week, with the first having departed from New York on Monday at 9:45 a.m. ET, according to tracking website FlightAware.com.
---
AT&T LAUNCHES DIRECTV NOW NOVEMBER 30TH WITH 100 CHANNELS STREAMING LIVE
AT&T today officially unveiled its DirecTV Now live TV streaming service at an event held in New York City. The service, which is launching on November 30, was first announced earlier this year. Many of the details about the new service were reported already, including a starting price point of $35 per month, and a lineup of more than 100 channels, with the option to add on premium networks like HBO and Cinemax.
---
Closing Bell
– Monday, November 28th
Markets Snap Streak, Close Lower as Oil Rises Ahead of OPEC Meeting
Big Insider Trades
– Salesforce.com, Inc. (CRM) CEO Marc Benioff Sells Another $1m
– Kratos Defense & Security Solutions, Inc. (KTOS) Director Bandel Carano Buys $5m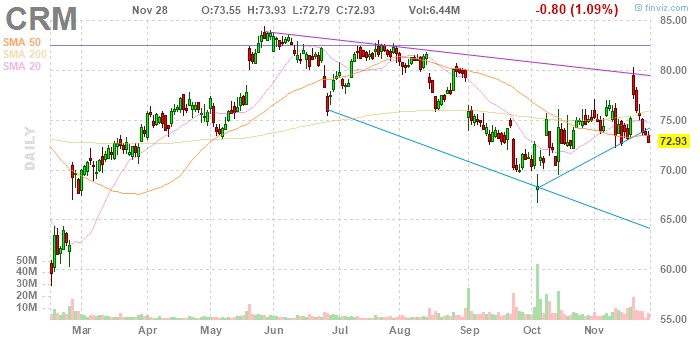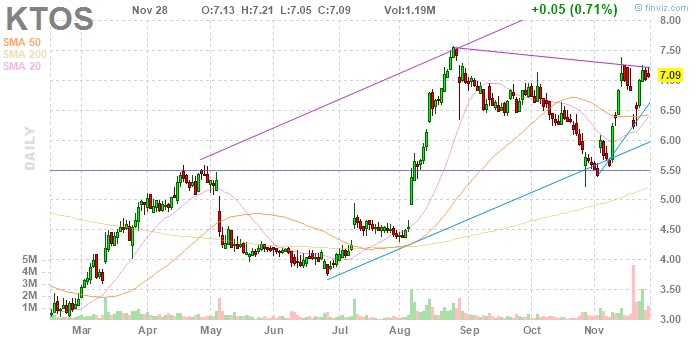 Winners & Losers
– PhaseRX, Inc. (PZRX) Skyrockets UP (149.56%) After Lead Drug Candidate Receives Orphan Status
– Fang Holdings, Ltd. (SFUN), Chinese Online Real Estate Portal, Drops DOWN (15.74%) After Dismal Q3 and New Government Regulations
Most Talked About
Time, Inc. (TIME) Surges to Strong Buy After Acquisition Bid Report
The TIP Sheets
– Monday, November 28th
– Time, Inc. (TIME) Surges UP (15.94%) After Rejecting $1.8 Billion Takeover Bid. The Offer Shows at Least Some People See TIME as a Good Takeover Target and Also that TIME Still has a Plan. Expect Shares to Continue UP
Unusual Volume
– PhaseRX, Inc. (PZRX) Soars UP (149.56%) on 30.5m Shares Traded After Lead Drug Candidate Receives Orphan Status, Meaning it Will be Moved Forward to Cure a Disease Affecting Under 200k People. With Guaranteed Government Assistance, Look For Shares to Continue UP