The Capitalist Newsletter – November 3, 2016
JUSTICE DEPARTMENT SUES AT&T FOR COLLUSION; TIME WARNER DEAL AT STAKE
On Wednesday, the U.S.Justice Department filed an antitrust lawsuit against DirecTV and (now parent company) AT&T. The suit alleges collusion over the way information was shared between channel providers during negotiations to carry a channel devoted solely to Dodgers baseball. The lawsuit comes at a time when AT&T is submitting an $84 billion proposal to acquire Time Warner. Is that acquisition now in danger?
Read The Capitalist's Take Here
---
FED STANDS PAT, MOVES CLOSER TO RATE HIKE
Federal Reserve policy makers left interest rates unchanged while saying the argument for higher borrowing costs strengthened further amid accelerating inflation, reinforcing expectations for a hike next month.
---
VALEANT EXPLORING SALE OF EYE-SURGERY EQUIPMENT BUSINESS TO AID IN DEBT RELIEF
Valeant Pharmaceuticals International Inc. is exploring a sale of its eye-surgery equipment business as part of a sweeping effort to unload assets and pare debt. The eye-surgery business, which Valeant acquired with its purchase of Bausch & Lomb just three years ago, could fetch as much as $2.5 billion in a sale, according to people familiar with the matter. It's not clear who may be interested in the operation. The sales process is in an early stage and Valeant may still decide not to sell the business, some of the people said.
Read More at Wall Street Journal Here
Read More at Business Insider Here
---
Closing Bell
-Wednesday, November 2nd
Markets Continue Streak, Close Lower as Election Looms
Big Insider Trades
– Skechers U.S.A., Inc. (SKX) President Michael Greenberg Sells $3m
-NuVasive, Inc. (NUVA) Director Patrick Miles Buys $1m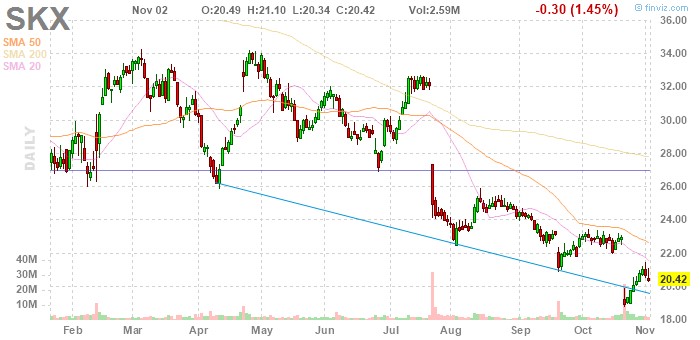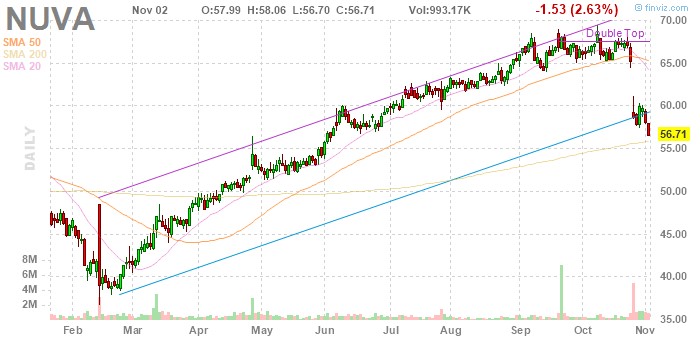 Winners & Losers
-AveXis, Inc. (AVXS) Shoots UP (22.18%) After Announcing Trial to Evaluate Leading Drug Candidate Against Spinal Muscular Atrophy
– Adeptus Health, Inc. (ADPT), Nation's Largest Operator of Freestanding Emergency Rooms, Plummets DOWN (67.99%) After Posting $11.7 Million Loss inQ3
Most Talked About
Bunge Ltd (BG) a Unanimous Strong Buy After Record US Harvest
The TIP Sheets
-Wednesday, November 2nd
– Columbia Pipeline Partners LP (CPPL) Spikes UP 6.88% After Announcing the Company is Being Absorbed by TransCanada. Expect Shares to Continue UP
Unusual Volume
– GameStop Corp. (GME) Falls DOWN (11.16%) on 13.5m Shares Traded After Announcing New October Games Underperformed. With the Holidays Right Around the Corner, Look For Shares to Bounce Back UP