The Capitalist Newsletter – November 30, 2016
TRUMP NOMINATES TOM PRICE AS SECRETARY OF HEALTH AND HUMAN SERVICES; SIGNALS END OF OBAMACARE
President-Elect Donald Trump vowed during his campaign to repeal the Affordable Care Act. Then after winning, Trump said he just wanted to "modify" it. Now, Trump has nominated a staunch Obamacare critic to be Secretary of Health and Human Services, most likely signaling the end of the Affordable Care Act. But what can we expect to take its place?
Read The Capitalist's Take Here
Read More at Wall Street Journal
---
U.S. HOUSING PRICES EXCEED HOUSING-BOOM LEVELS
Home prices nationally reached a new high, surpassing the previous best set during the housing boom. The average home price in September rose 0.1 percent above the July 2006 peak, according to the Standard & Poor's/Case-Shiller index released Tuesday. However, adjusted for inflation, the index remains about 16 percent below peak.
Read More at The Washington Post Here
---
FACEBOOK MESSENGER LAUNCHES INSTANT GAMES
Facebook hopes some friendly competition will get you to spend even more time in Messenger. You compete asynchronously via high scores instead of directly at the same time, so it's convenient to try your luck any time. And eventually, Instant Games could earn Facebook ad dollars from developers promoting their games, or a cut of payments, though there are no in-game purchases allowed yet.
---
Closing Bell
– Tuesday, November 29th
Healthcare Leads the Way as Markets Close Slightly Up
Big Insider Trades
– Las Vegas Sands Corp. (LVS) President Robert Goldstein Sells $7.5m
– Sempra Energy (SRE)Director Alan Boeckmann Buys $600k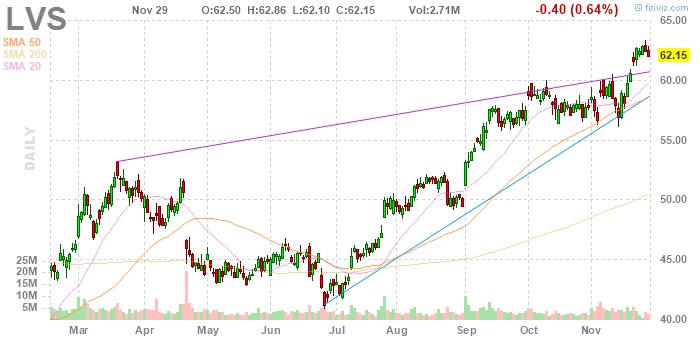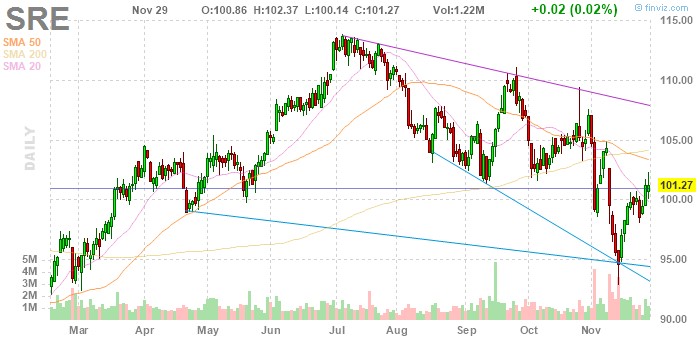 Winners & Losers
– Genetic Technologies Ltd. (GENE) Jumps UP (63.73%) After Announcing Licensing Agreement with The University of Melbourne
– Nivalis Therapeutics, Inc. (NVLS) Plummets DOWN (58.88%) After Cystic Fibrosis Drug Study Fails
Most Talked About
CombiMatrix Corp. (CBMX) a Hot Topic as the Vast Majority Consider the Stock a Strong Buy Following CBMX Announcing that its Pre-Implantation Genetic Screening Test Received Conditional Approval in New York
The TIP Sheets
– Tuesday, November 29th
– The Allstate Corp. (ALL) Dips DOWN (3.35%) After Announcing the Company is Purchasing Squaretrade, Seller of Warranties for Electronic Devices. With Allstate Looking to Expand into Consumer Goods,Expect Shares to Bounce Back UP
Unusual Volume
– Amicus Therapeutics, Inc. (FOLD) Falls DOWN (21.75%) on 12.3m Shares Traded After Announcing Another Drug Trial Will be Necessary Before the Company Can File for FDA Approval of its Fabry Disease Drug. Look For Shares to Continue DOWN