The Capitalist Newsletter – October 14, 2016
GOPRO STOPS SHIPPING TO AMAZON; UNDER PRESSURE AS HERO 5 SALES COME UNDER FIRE
GoPro, known for their wearable cameras, announced Thursday that it would temporarily stop selling its newest camera, the HERO5, to Amazon. Prior to that, GoPro shares were down 15 percent the past week. What's going on? Is GoPro in trouble?
Read The Capitalist's Take Here
---
WELLS FARGO CEO JOHN STUMPF FINALLY RESIGNS; WALKS AWAY WITH $133 MILLION
Even though he left on a low, John Stumpf, former CEO of Wells Fargo, will take about $133.1 million into retirement. The beleaguered executive retired Wednesday afternoon as investors, lawmakers, and consumers grew increasingly frustrated with how Stumpf handled the fallout of the bank's phony account scandal .
Read More From The Wall Street Journal Here
---
VERIZON SAYS YAHOO HACK "MATERIAL"; COULD AFFECT ACQUISITION
Verizon Communications Inc said on Thursday it has a "reasonable basis" to believe Yahoo Inc's massive data breach of email accounts represents a material impact that could allow Verizon to withdraw from its $4.83 billion deal to buy the technology company.
Read More From TechCrunch Here
---
Closing Bell
-Thursday, October 13th
Stocks Close Lower following the Federal Reserve's latest meeting and weak Chinese economic reports.
Big Insider Trades
-SalesForce.com, Inc. (CRM) CEO Marc Benioff Sells $885k
– Ruby Tuesday, Inc. (RT) Execs Buy $570k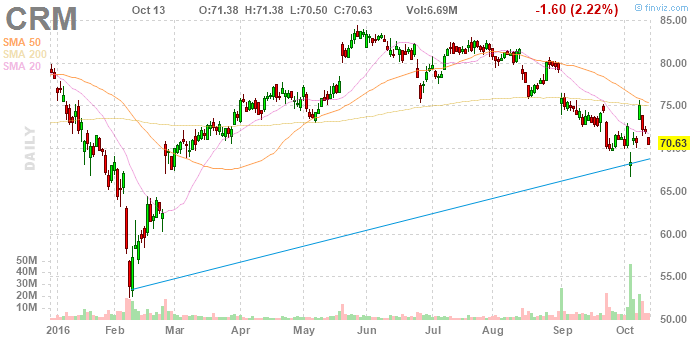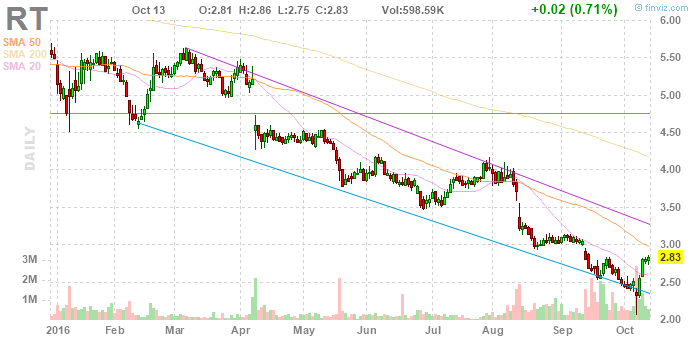 Winners & Losers
– ULTA Salon, Cosmetics & Fragrance, Inc. (ULTA) Jumps UP (11.37%) After Raised Guidance
– Fluidigm, Corp. (FLDM) Stumbles DOWN (33.97%) After Bad Preliminary Q3 Reports and Analyst Downgrade
Most Talked About
Ocular Therapeutix, Inc. (OCUL) a Hot Topic and Strong Buy After Regeneron Pumps $300 Million into New Eylea Drug
The TIP Sheets
-Thursday, October 13th
– Ocean Power Technologies, Inc. (OPTT) Shares Drop After Analyst Downgrade. Analysts Put a Stop at 3.00. Expect Shares to Drop DOWN
Unusual Volume
– ITC Holdings Corp. (ITC) Drops (1%) on 31 Million Shares Traded After Analysts Give Hold Rating. Look for Shares to Break UP