The Capitalist Newsletter – October 15, 2016
MARRIOTT INTERNATIONAL UNVEILS EXPERIMENTAL HOTEL; LOOKS TO CHANGE THE INDUSTRY
With the hotel industry seeing competition from home rental companies such as Airbnb and Home Away, brands must find a way to innovate in order to stay relevant. Marriott has unveiled its plan to do exactly that with the grand opening of the company's M Beta at Charlotte Marriott City Center. What's so special about another hotel? And how can it change the hotel industry?
Read The Capitalist's Take Here
Read More at Business Travel News Here
Read More at Travel And Leisure
---
OIL RIG COUNT CLIMBS FOR 7TH STRAIGHT WEEK AS CRUDE OIL RISES FOR 4TH STRAIGHT WEEK
The US oil rig count rose by 4 to 432 this week, according to oilfield-services giant Baker Hughes. Notably, oil prices have ticked up slightly over the last couple of weeks to around $50 a barrel..
Read More From Business Insider Here
Read More From Investor's Business Daily Here
Read More From The Wall Street Journal Here
---
CONSUMER SENTIMENT UNEXPECTEDLY DROPS TO 13 MONTH LOW
Consumer confidence unexpectedly fell to a one-year low in October as Americans soured on the outlook for the economy amid a contentious presidential election campaign. The University of Michigan preliminary index of sentiment declined to 87.9 from 91.2 in September, according to a report Friday. That was weaker than the lowest estimate in a Bloomberg survey of economists. Long-term inflation expectations declined to a record low….
Read More From Market Watch Here
---
Closing Bell
-Friday, October 14th
Stocks Inch Higher Yellen Comments, Bank Earnings
Big Insider Trades
– Acacia Communications, Inc. (ACIA) CEO Murugesan Shanmugaraj Sell $10.4m
– Alnylam Pharmaceuticals, Inc. (ALNY) Director David Pyott Buys $1m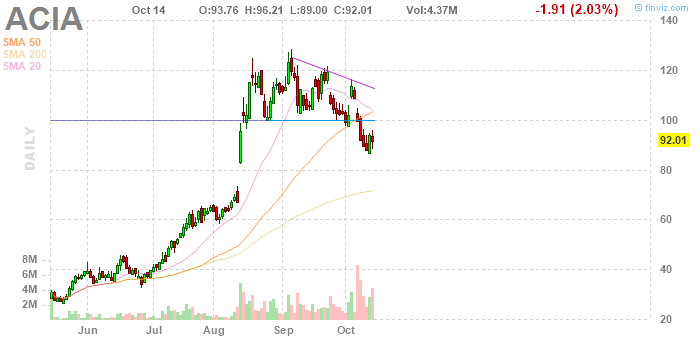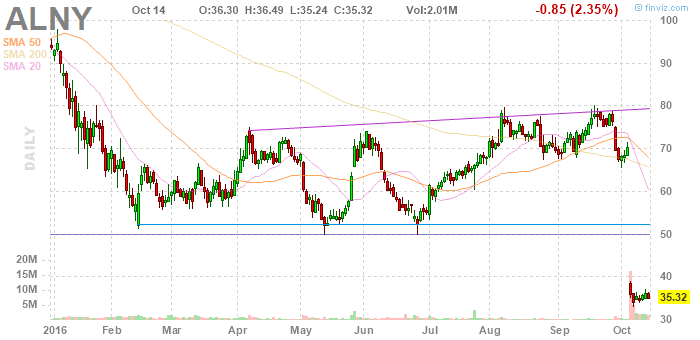 Winners & Losers
– First Bancshares, Inc. (FBMS) Jumps UP (20.65%) After Announcing Acquisition of Two Other Banks
– Taylor Devices, Inc. (TAYD) Plummets DOWN (33.20%) After Announcing Dismal First Quarter Sales
Most Talked About
Digital Ally, Inc. (DGLY) a Popular Topic After Getting a Favorable Ruling in Lawsuit Against TASER
The TIP Sheets
-Friday, October 14th
– Digital Ally, Inc. (DGLY) Ticks UP 4.81% After a Favorable Ruling in Lawsuit against TASER International, Inc. TASER Has the Competitive Advantage, However. Expect DGLY Shares Should to Drop Back DOWN
Unusual Volume
– Salesforce.com, Inc. (CRM) Jumps UP (5.15%) on 25 Million Shares After Officially Dropping Twitter Bd