The Capitalist Newsletter – October 28, 2016
MICROSOFT'S ALL-IN-ONE SURFACE STUDIO READY TO CHANGE THE WAY WE SEE THE PC
Solar is the future of renewable energy. As utility costs rise, more and more consumers are looking for affordable options to run their homes. After the announcement of Sunrun and LG Chem, homeowners now have a new energy option. But can Sunrun and LG Chem compete with Tesla and Panasonic?
Read The Capitalist's Take Here
---
AMAZON DIVES ON EARNINGS MISS
Amazon significantly disappointed investors when it posted third quarter earnings after the bell Thursday. With an adjusted earnings per share of 52 cents, this was well beneath the expected 78 cents. The stock quickly fell at least 6% in after-hours trading. Revenue of $32.7 billion was in-line with what Wall Street was expecting.
Read More From Tech Crunch Here
Read More From The Street Here
Read More From Investor's Business Daily Here
---
EXXON EYES SETTING UP LARGE-SCALE TRADING DIVISION
ExxonMobil is investigating building a full-scale trading division for the first time in its history, as the world's largest listed energy company searches for new ways to boost profits during the oil price slump….
Read More From The Financial Times Here
Read More From Seeking Alpha Here
---
Closing Bell
-Thursday, October 27th
Stocks Close Lower After Real Estate Slides
Big Insider Trades
– Microsoft Corporation (MSFT) Director Bill Gates Sells $165m
– AT&T, Inc. (T) Directors Geoffrey Yang Buys $1m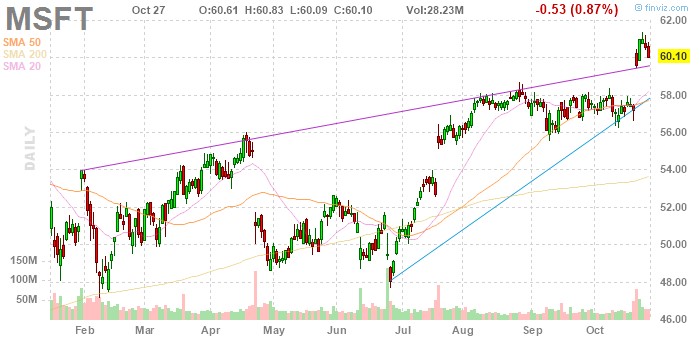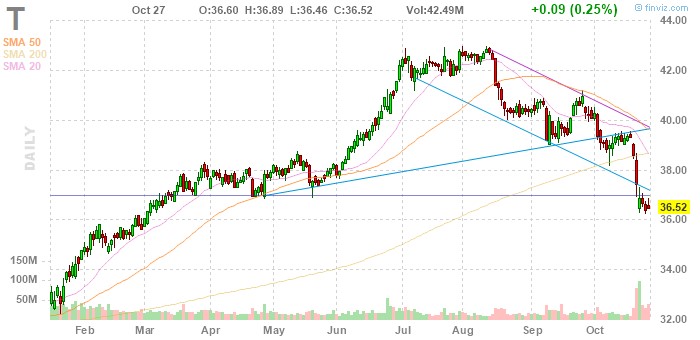 Winners & Losers
-TTM Technologies, Inc. (TTMI) Rises UP (20.07%) After Delivering Solid Earnings Report
– Community Health Systems, Inc. (CYM) Plummets DOWN (49.65%) Ahead of Dismal Earnings Report
Most Talked About
Community Health Systems, Inc. (CYM) Plummets DOWN (49.65%) Ahead of Dismal Earnings Report; Now Seen as a Bargain Buy
The TIP Sheets
– Thursday, October 27th
– Groupon, Inc. (GRPN) Shares Fall DOWN (22.05%) After Company Announces Purchase of Rival and Earnings Report. Shares are UP 42% on the Year. Expect Shares to go Back UP
Unusual Volume
– QUALCOMM, Inc. (QCOM) Jumps UP (2.77%) on 34m Shares Traded After Announcing Acquisition of NXP in Biggest Chip Deal. Look For Shares to Continue UP